'Two Elephants' to make campus debut
Erin Gibson premiered her eight-year-long project, a documentary titled "Two Elephants" in May and the WNIN Old National Public Theatre. The film follows the story of Kay and Bunny, two elephants previously kept at the Mesker Park Zoo, and now the film will premiere at USI this Friday.
The film will show on Friday at 7:30 p.m. in Forum 1. Admission is free for this showing. Gibson said the film received funding from a grant given by the College of Liberal Arts and showing the film was a way for her to report back.
"USI is my home, and I wanted faculty and students to be able to see it," Gibson said.
The first showing of the film, back in May, was invitation only. In attendance were friends and family of Gibson, along with people involved or featured in the film.
"That was a really special night," the instructor of journalism said. "I had not expected to start thinking about what everybody in the audience was thinking while they were watching the film."
Gibson described a brilliant and odd moment where she got to put herself in the shoes of the audience to see how they would respond to the film depending on their connection to the story or their connection to her.
"That was a really interesting aspect of that night," Gibson said. "It was Mother's Day weekend, which I don't think I'll ever forget, because it occurred to me, as I'm sitting next to my mom, that my mom had some tears in her eyes. And it occurred to me that I was making my mom cry on Mother's Day weekend."
The next four showings were open to the public. Gibson was delighted to learn that all four had sold out.
Gibson said everyone was very receptive to the film and the story being told.
"Even people who had been hearing me talk about this (the film) for all these years, had no idea how I was going to approach it and what to really expect," Gibson said. "And so that was nice to really hear their comments afterward and to hear how well they received it."
During a Saturday show, a group from the Mesker Park Zoo came to see the film, including a woman who used to be a caretaker for Bunny. Gibson said she was anxious about how the caretaker would feel about the film.
Gibson said the caretaker was crying when she saw her after the film. Gibson told the caretaker that she tried to do justice to Kay and Bunny's story and the caretaker said she did.
"It was probably one of the most touching moments for me because I realized that my attempt to be fair and to tell the story had succeeded," Gibson said.
Gibson said the moment from the film she's most proud of, is a section where she used a Karl Kae Knecht cartoon to tell the story.
"I moved myself in that scene," Gibson said. "And I am very proud that it strikes me and that it seems to strike the audience as well."
Gibson said there's a scene in the film using footage of Bunny at the elephant sanctuary in Hohenwald, Tennessee that gives her chills every time she sees it.
"I'm still amazed that we have that moment captured and I'm so happy that I was able to share it and preserve it this way so that everybody will always be able to look at that and hold on to that," Gibson said.
Gibson believes the film will be able to correct the historical record. She said the film could help the community acknowledge their history with the elephants and what was done well and what wasn't done well.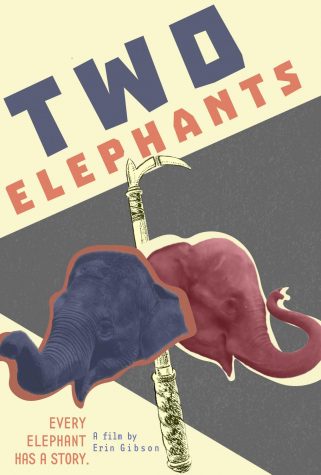 "This story gives the background from her (Kay's) perspective and it considers what her feelings were at the time and during her life here," Gibson said. "It gives an explanation as to why we lost the zoo director, how that could have been and why she could have acted out so violently. And I think that's important for our community to be able to acknowledge the past in the most truthful way."
Gibson said the film is great for people from Evansville to see and people not from Evansville to see.
"There's so much to learn about elephants through this film," Gibson said. "This film is not just about these two elephants and it's not just about history. It's about elephants in general and what we can learn through the stories of these two elephants."