Elevating illustration to fine art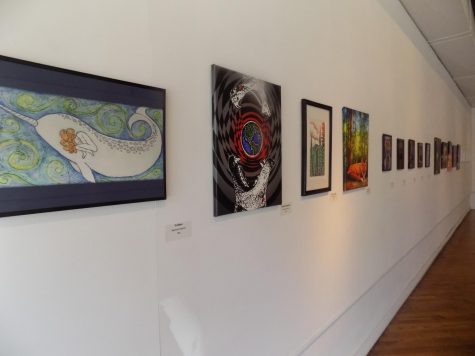 Emma Corry
Theanoe Christos said she wanted to make people look at illustration like the true art form she believes it is.
The senior art major honored women illustrators in New Harmony Gallery of Contemporary Art's latest exhibit.
The exhibit titled "The Politics of Imagination: Women in Illustration" ran from Feb. 27 to April 7 and featured 33 pieces by eight different female artists.
The exhibit was curated by Christos as a part of the James Sanders Gallery Fellowship. Christos received the fellowship after filling out an application and completing an interview.
Christos spent one semester working with the art collection at the university and one semester working in New Harmony for a total of 6 credit hours.
Christos said the main focus of the exhibit was to showcase comic book illustrations.
"My goal was to elevate illustration and narrative illustration to the level of fine art because you don't normally see it on the wall when you go to a gallery," Christos said.
Christos said she read a lot of comics and invested a lot of time looking up artists and understanding their artworks.
"Most of the artists I've picked are webcomic illustrators or comic book illustrators with published works," Christos said.
Christos said she contacted a large number of artists to be featured in the show, and the ones that replied and showed interest were selected for the gallery.
She hoped to use the experience she gained from the fellowship to help her do more gallery work in the future.
"I love curatorial work and I really hope to continue it after this," Christos said.
Christos said she decided to use female illustrators because they're not seen as much.
"I've been pretty much exclusively investigating comics that have been illustrated or written by women," Christos said."I find that in most cases they're independent comics, and independent comics don't get as much exposure."
According to Christos, this was the first time many of the artists had their work displayed in a gallery.
"If I was going to make a show about narrative illustration I was gonna lift people up who weren't normally published," Christos said.
Garry Holstein, director of the New Harmony Gallery for Contemporary Art said the gallery has been around since 1975 and has been partnering with USI since 1985. The gallery is part of outreach engagement and has a focus on midwestern and emerging artists.
The gallery holds seven exhibitions each year and brings in artists from all across the nation. The Women in Illustration exhibit featured both digital and physical drawings.
Holstein said that his goal of this exhibition was to provide an opportunity for the Sander's Fellow to connect with professional artists in their field and to have the experience of curating a show.
"The cool thing about a show like this is that it's very accessible," Holstein said."It's got a lot of fun content and people love all the bright colors."
At the back of the gallery comic panels made by guests were pinned to the wall.
Christos displayed her own artwork, a comic detailing her life in New Harmony titled "Utopia," on the wall along with the guest made comic strips.
"Kids love the opportunity to draw something and immediately put it up on the wall," Holstein said.
Melissa Erwin, a USI art alumna had three pieces displayed in the gallery. Erwin currently lives in Austin, Texas, but was originally from the Evansville area.
The pieces were digitals prints from her comic book pages that were in her graphic novel series published in 2009. Erwin described her comic book as "The Sopranos" meets "Seven Samurai."
"I've done everything from heavier subject matter to stuff that's just pure entertainment," Erwin said. "What I like to do is stuff that I think is entertaining and I like to draw."
Heather Landry, a USI fine art alumna, said she has been doing art for 35 years.
Five pieces of art by Landry were displayed in the exhibit.
Landry said she wanted to make sure they had enough so she brought extra pieces that Holstein and Christos could select.
"(Christos) was very interested in illustration and comic book illustration, and at the time she was looking for female illustrators and comic book illustrators," Landry said.
Landry said she used a variety of techniques in her artwork.
"I try to finish most of my art digitally so I can have a lot of reproductions and variations for people," Landry said. "I like to employ my own photographs and drawings as well as stock photos."
One of Landry's pieces, titled "100 Keys," depicted a nightmare her friend had.
"I just want them to see what I see," Landry said. "Every single piece that I've made is just me trying to transcribe the things that I really do see, think and dream about."
Landry said that the exhibit was inspiring to young girls.
"They really find it encouraging when they see a show like this or whenever they go to an event and see women prominently featured," she said.
Landry said that people were fascinated by the stories behind her pieces and wanted to learn more about the techniques she used.
"I was just really grateful that I got to show off what I love to do," she said."I love to illustrate dreams and I love to make comics, and I was super happy that I got the opportunity to show people that."