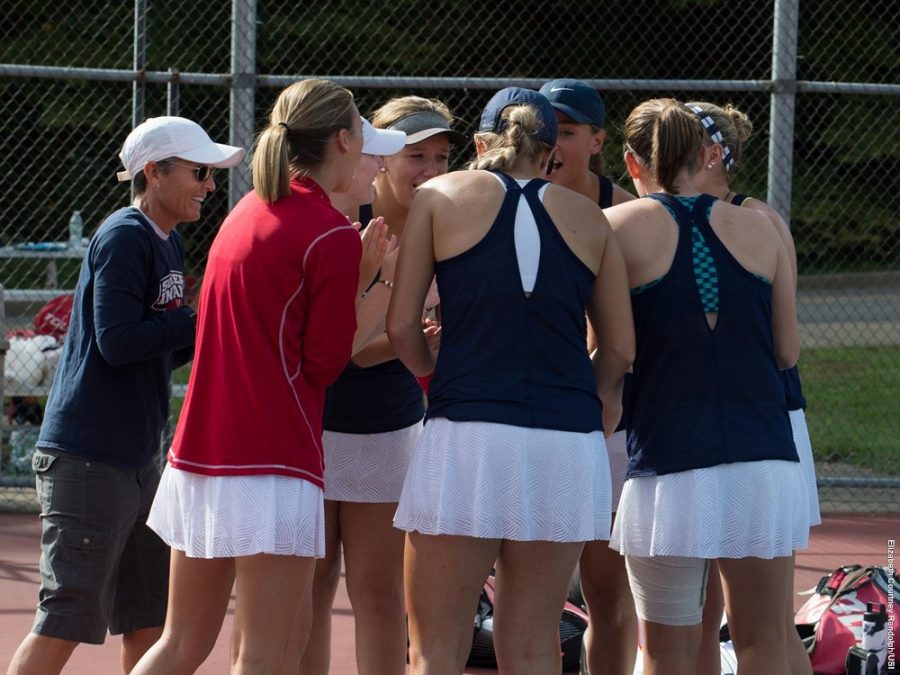 USI photo services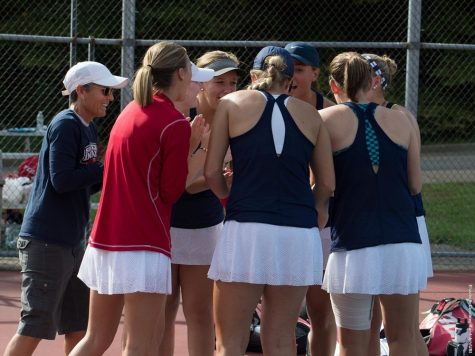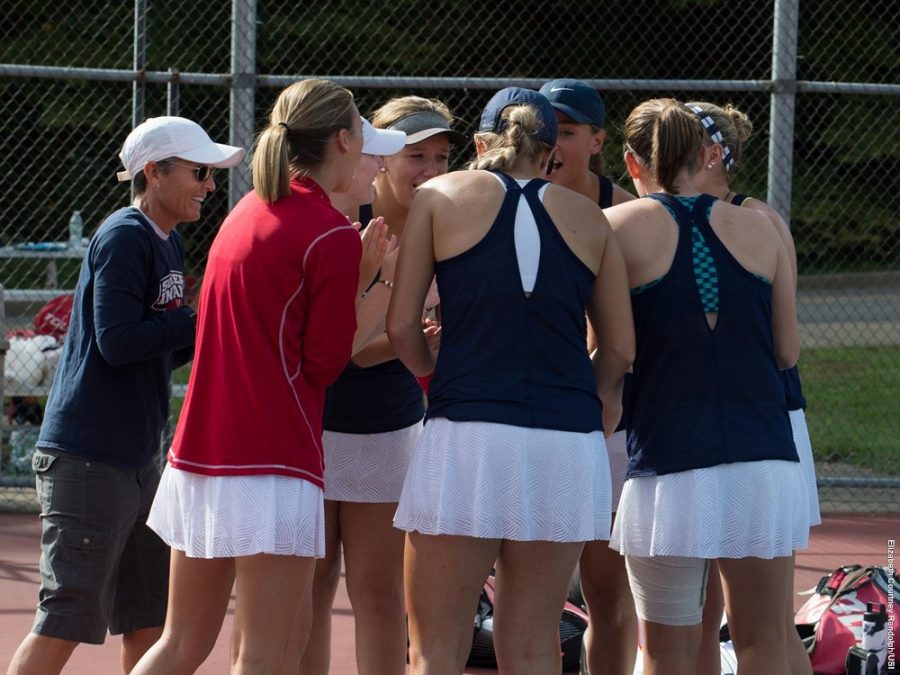 USI photo services
Kelsey Shipman said her coach has told their tennis team numerous times that they are potentially the strongest team she has ever had.
The senior biology pre-med major said that while that is great, it would be even better if she could cross out the "potentially" and just say they are the strongest team she has ever had.
Keely Porter is the head coach of the women's tennis team and an instructor of kinesiology. Porter's team consists of seven girls, and is smaller than most teams. However, they make up for their size with their drive, unity and talent.
"I think it is almost more important to have that unity when you are a small team," Shipman said. "We're like a nice, small, maybe larger than average family."
Due to small numbers, players do not have to compete for their spots to play in matches. Because of this, it can be easy to become indifferent and lazy, but Shipman said the girls constantly push against that.
"Though the competition between each of us individually isn't as high as it was my freshman year when we had more players, it is definitely still there," Shipman said. "Sometimes we just have to remind each other like, 'hey I know you're tired and I know that you're stressed about these day-to-day type things but when we are here, right now at practice, and though you're not going to be replaced, you need to step it up.'"
In addition to this, Shipman said that Porter likes to change up their doubles partners. Shipman said that while she is sure there is a strategy behind the switches, she also thinks Porter likes to keep them on their toes.
"I think it's a mixture of you have to make sure that everyone on the lineup has a chance to win," Shipman said. "I think she also likes to switch it up so you don't get too comfortable and that you have to adapt, because usually she ends up putting you back with the person you have been with the longest."
In one of the switches last year, Shipman began working with Lauren Hambrock, a sophomore biology pre-med major, who was a freshman at the time. Hambrock and Shipman are now number one doubles partners.
"I got to play a little bit with (Shipman) last year as well, and it was fun because we have a lot in common, and we kind of think the same way so it was a little weird," Hambrock said. "And we like biology and we get along really well."
Both biology pre-med majors, Shipman and Hambrock have created a friendship on and off the court. The girls are even roommates in the on-campus apartments.
Although Shipman was a junior and Hambrock was a freshman when they began working together, Hambrock said she never felt intimidated by Shipman. Hambrock said the entire upper-class was very nurturing and supportive.  
Hambrock described Shipman as her database of information.
"I have learned a lot from her outside of tennis, actually," Hambrock said. "She is kind of my database for all biology questions, chemistry questions and advising questions so I kind of go to her first. High school and college are so different and I really didn't know how it would all work out, so she helped me a lot with that."
Hambrock said that when visited USI as a freshman, she instantly felt welcomed by the team. She said that the team has maintained that welcoming atmosphere with the incoming freshman and hopes it continues in the years to come.
"We lost three very valued players, not just with their tennis capabilities but what they just brought to the team as a whole, like their mentality and their comic relief all the time," Hambrock said.
"So, we were kind of worried because we lost those girls and we loved them, but we got two new freshmen and they bring a whole new element to our team. And they like to joke around, and they are aggressive on the court and great players."
Porter said she gives full credit to her two seniors for the unity on the team.
"They are really as close as any team I have had so they really affect each other," Porter said.They have been a tremendous influence on the program and have helped keep it very enjoyable for me."
Not only her strongest and closest, but Porter also said she thinks this is the smartest team she has ever had.
"It has been a team goal of my two seniors to win the GPA award," Porter said. "They have a 3.72 GPA which is the highest that I have heard. My teams have always done well, but I think it's with a little less scholarship money that we tend to get students who are a little more academically minded."
Porter said that the measure of their team is in more than just wins and losses. The team went through a seven-match losing streak, but during those seven matches, the girls had two 5-4 losses and stayed competitive.
"I knew before we left for our Florida spring break trip that all four teams were super solid, and after losing 5-4 to Concord we lost 9-0 the next three matches, but they were just really, really, strong teams," Porter said.
"I was pleased at Florida and that sounds funny to be 0-4 and lose matches 0-9, but it was against Florida Institute of Technology. I think they were top 25 in the country, and my number two player, my senior, lost in a ten-point super tiebreaker. That is a really high level of play."
Shipman said her mentality of helping and guiding others is similar to the rest of the team because that is something very important to their coach. She said that Porter's mentality is passed down through the whole team.
"I have always had that mentality," Shipman said. "If I know something then I want to help you with that and I want to share that information and keep that going. I feel like I have helped (Hambrock) a lot. I have also given guidance to the other freshman that they can continue to share that with the next people that come in when I am gone."