Megan Thorne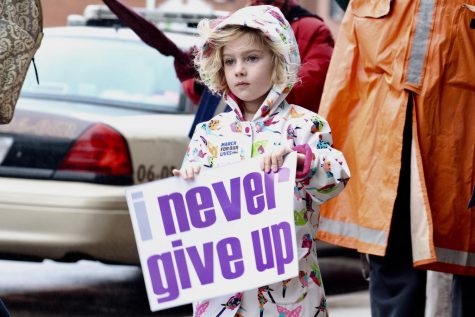 Megan Thorne
Rain splattered the streets of downtown Evansville as 500 pairs of rain-soaked shoes stomped through the puddles Saturday afternoon.
The carefully colored signs reading "March for Our Lives," "Never Again," and many more were drenched and bending, dripping the marker applied just hours before.
Voices that raised from shivering bodies yelled chants, rehearsed at First Presbyterian Church during the before-march meeting. Despite the cold, the voices were strong, yelling over the wind and rush of the passing cars.
"Stop the silence!" Belle Townsend, a senior at Henderson County High School, yelled from the front of the march.
"And gun violence!" the hundreds of voices yelled back.
The Evansville March for Our Lives was organized by high school students from around Evansville, Newburgh and Henderson as well as independent organizations.It was one of hundreds of marches happening all over the United States Saturday.  
The series of marches were inspired by the high school students in Parkland, Florida, who have been advocating for stricter gun control since the school shooting that killed 17 of their classmates Feb. 14.
Among the faces in the crowd were college students, parents, children, high schoolers, middle schoolers and elders. A movement that started in one high school has sparked a passion in the lives of many others across state borders.
Sheridan Proctor-Zenker is from the southside of Chicago and gun violence is nothing new to her.
The sophomore international studies and political science major said she knew she would not be able to make it to the march back home, so she was surprised and pleased when she found out Evansville would be having a march of its own.
Proctor-Zenker is more familiar with gang violence than school shootings, but she said it's all the same.
"I know people who brought guns to school. They just kept them in their backpacks mostly because they were worried someone else would do something," Proctor-Zenker said. "That was the first-hand experience I had. Luckily nothing ever happened, but that could change at any time. It's so easy and these are kids getting guns."
Proctor-Zenker said she thought most people in Evansville were either indifferent or wouldn't support the march, however, she was surprised that so many came out.
"It shouldn't have taken so long but I think if we keep pushing the issue, it will gain more support," she said. "This is a pretty small town, but there is a much bigger group of people here than I thought so it shows that even on the smaller scale people are starting to realize how big of an issue this is."
Zoe Meuth was one of several students and adults who spoke at the Four Freedoms Monument, the destination of the march.
The sophomore international studies and German major said she often hears the argument that guns don't kill people, people kill people.
Meuth said that while this is true, it doesn't make any sense why we would make it easy for students to obtain a gun to kill their fellow classmates.
"I grew up in a world where school shootings, gun violence, all these things, they were normal," Meuth said. "I want that to change. With my younger brother especially, growing up right now, I don't want him to have to go through the same fears as all these students around the country are."
Meuth saw on the Evansville March for Our Lives Facebook page that students could apply to speak at the march if they sent in a one-page submission. Meuth was approved and gave her speech outside to the silent audience; her rising voice, and the rain, were all that could be heard.
"We have become so conditioned to seeing other Americans killed by gun violence that we no longer care about the smaller shootings taking place almost every day in this country," Meuth shouted. "And with the frequency that these large shootings are happening, I worry that we will no longer begin to care about those lives lost as well."
Denise Lynn, associate professor of history at USI, said since the election of Trump, many progressive people have come out of the woodwork and organized events. Lynn said this is the third march she has been to in Evansville recently.
Lynn said it is significant to have people who are in support of more sensible gun laws in the "heart of a red state that bows down to the NRA (National Rifle Association) at every opportunity."
Lynn said that while she is attending an event organized by high school students, she is a voter, while many of these high school students cannot vote yet. She said it is the responsibility, as adults and college students, to hold our elected officials accountable.
Lynn said millennials, especially, have an important voice, but said she feels they are not using it. Being a professor at the university, Lynn often gets frustrated with students when she tries to get them hyped about voting and they aren't really behind it or seem to care.
"Understandably there is a lot of disillusionment with the political process in this country," Lynn said. "But as we can see, elections are extraordinarily important and stepping away from that at any age is irresponsible."
Lynn said people need to be open to new ideas, especially in a place where there is an entrenched idea of how things are. Lynn said college students are usually the ones most open to challenging what they think on certain issues.
"As an educator, it's my duty to filter through opinion versus fact," Lynn said. "That is my job and I have taken it seriously for all my many years of teaching. But I feel more of an imperative now to do it."
Proctor-Zenker said this march has been a long time coming.
"I don't understand what the main problem is," Proctor-Zenker said. "I know that people want to have their guns, but there is no reason we can't have stricter gun laws to prevent children from being killed senselessly. The argument against it is that they want to take away our guns, but that is not what anyone wants. It's not realistic, and we are not going to stop until they do something about it."