Class offers opportunities in service, travel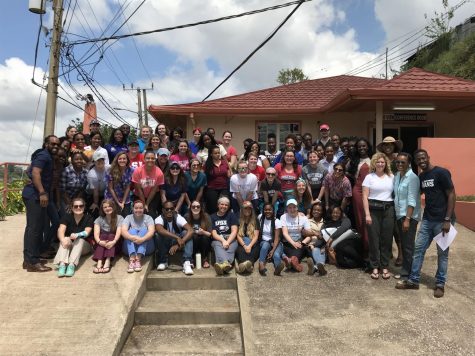 Wendy Turner
Bri Martin said she always wanted to travel.
Eighteen undergraduate and 12 graduate social work students participated in a service learning activity over Spring Break in Mandeville, Jamaica. The event is held by the Social Work Department in partnership with International Orphanage Relief.
Martin said this was her first time going on the trip.
"I've had an interest in global social work," the junior social work major said. "This was a good opportunity to explore those feelings, and as a social worker you have that want to help people."
Martin said she learned perception is everything.
"The people there, even though they're living in such horrible conditions, are so extremely positive with what they have," Martin said.
Martin said she started crying after seeing the living conditions in an infirmary they visited.
"When we walked up to the elderly people that were there, all of them had some type of disability," Martin said. "They would just love on you or sing."
Martin saw one of her friends get consoled by a patient who told her friend not to cry and to let this be a learning experience.
"What we think is bad is nothing compared to what bad really can be," Martin said.
Wendy Turner, an associate professor of social work has been making this trip since 2004.
"We were invited to go along with Deaconess Hospital for that first trip in 2004," Turner said. "That's when I realized there was a lot more that we could do, and so I partnered the next year with International Orphan Relief, and we've been making the trip to the same area each year since 2005."
Over the course of the week students visited two orphanages, an infirmary, a group home and an elementary school. Students also met with other social work students at a university in Jamaica.
Students performed developmental assessments specifically designed for Jamaican children.
"I think it's really important to develop relationships with the people where you go," Turner said. "I don't want students to just be tourists…we have ongoing relationships with the people there."
According to Turner, students paid $1,300 for the trip. This covered airfare, housing, ground transportation and food for the week.
Turner said the trip plays an important role in teaching students about privilege and pushing them out of their comfort zone.
"The majority of the students at our university are Caucasian, so for most of them it's the first time they've ever been a minority," Turner said.
This was Kaitlyn Begle's second time on the trip.
The senior social work major said she was relieved when she first arrived in Jamaica due to it being her first time out of the country.
"When we actually saw the boys in the boys home it took me by surprise because I wasn't ready to see some of it," Begle said. "They don't have shoes, and they don't have the clothing options that we have," Begle said.
Begle said she learned about how having a simple conversation with someone can make their day.
She said she grew both individually and professionally throughout the trip.
"This trip really helps students gain that confidence they need to talk to populations they don't always know how to talk to," Begle said. "Or in settings that may not be familiar to them."
Kayla Fein, a graduate student of social work, said this was her second time on the trip.
"I had never really been out of the county…I wanted to get some experience with another culture with my social work skills," Fein said.
Fein described the benefits of going on the trip multiple times.
"I got to do an assessment on one of the kids I assessed last year," said Fein. "So that was really cool to see where they were last year to where they were this year."
Fein was at the Ebenezer Home, a place for chronically homeless and mentally ill men, when she interacted with a local man who taught her how to play a game.
"Watching him be the teacher as opposed to us teaching them was really cool," Fein said.
Fein encouraged students to participate in the trip.
"You can talk about it for ages, but until you're actually there and in that culture, you don't know what your coming into," Fein said. "It's an amazing trip, and I would encourage everyone to go outside their comfort zone and do something like this."