Featured artist inspires students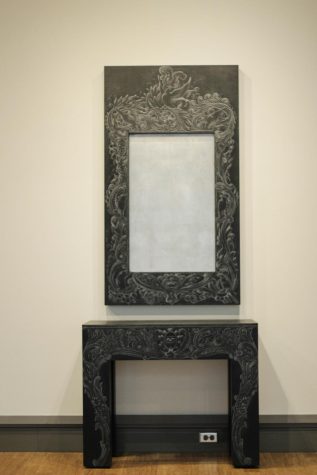 Logan Tharp said that hearing Sarah Martin's journey helps young artist see where they are going and could possibly be in 10 years.
Martin is the assistant professor of art at Murray State University who was chosen to showcase her If/Then gallery at the university alongside a demo and lecture.
Tharp said as a woodshop student he found both the lecture and Martin's blackbird demo very interesting and applicable type to the type of artwork he's currently working.
"I was doing stuff pretty similar to what (Martin) was demoing and carving small things basically," the senior visual art education major said. "I figured I could learn quite a bit about style and technique for small carvings. She went into depth talking about what tools she used and directions to turn the knife, pressure here, pressure there, and how to cut stuff with saws instead of just carving."
Tharp said he liked Martin's use of subject matter. "I really like her use of nature and stuff like that because I really like outdoors and woods, anything outside."
Sarah Martin said she hoped her gallery would inspire the student artist at USI.
"Hopefully it shows them a way that they can make their own career by giving an example," Martin said. "That's a weird thing in the art field there really isn't a good, well-worn path that you can just sort of follow and be successful. You really have to figure that out for yourself. What I had to say tonight gave them of at least one idea of how one person has done it. I hope it just encourages them to just keep going forward and to allow the work to be what it is without expectations of themselves."
Alisa Holen said exhibits like Martin's are huge for art students especially since many of Holen's students have never experienced one.
"I was amazed my first-semester teaching here and how many students hadn't ever been to an actual museum or exhibition," the associate professor of ceramic said. "Then when our faculty and our university had the opportunity to bring in these top of the line artists, I think it just opened up students' eyes."
Holen believes galleries are huge coverage for the art community, bringing successful artists to the university's small community. She said that it also helps students to see how to grow as an artist and continue on after graduation.
"It's just so fascinating how people go from that undergraduate degree or undergraduate course in the arts, and then how that can turn into an 11-year career and how you can find your passion," Holen said. "I think how everybody got there is important."