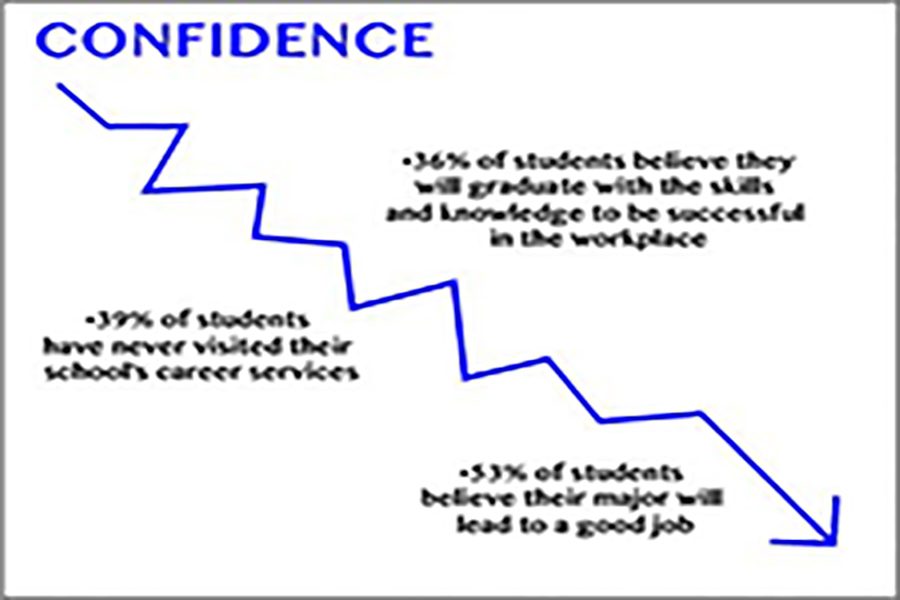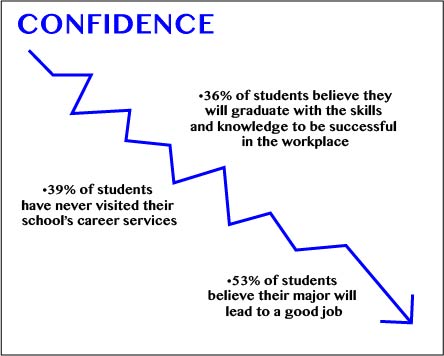 Graphic by Monica Smith
Students across the country are feeling less assured that they will graduate with the necessary skills to prepare them for the workforce.
A 2017 Gallup/Strada national student survey poll shows that current college students are less confident that they will graduate with the knowledge and skills needed to be successful in the workplace.
Overall, 36 percent of students think they have acquired the skills throughout college to prepare them for the workforce. A majority of students, 53 percent, believe their major will lead to a good job. Between 2000 and 2009, 73 percent of incoming freshmen said getting a better job was a critical factor in their decision to enroll in college. That number has increased to 86 percent since 2010.
Across the fields of study, students pursuing science technology, engineering and mathematics (STEM) degrees expressed the most confidence that their field of study will lead to a good job, while liberal arts majors expressed the least confidence.
"I think when you start moving into the STEM areas you start seeing 'if I major in engineering, I'm going to be an engineer,'" Kristina Walker, the director of advising at the Romain College of Business said. "I think when you start looking at business, and even down into liberal arts, there are so many options out there for a career path based upon their major that sometimes I can see where a student may feel a bit more overwhelmed when looking at their choices and matching up how their major and their skillset best fits certain career paths."
The survey also showed that nontraditional students are more confident than traditional students that they have learned the skills to be successful in the workplace. Seventy percent of nontraditional students choose their major prior to enrolling, while only 60 percent of traditional students had selected their major before enrolling in college.
"I was a non-traditional student when I came back to finish my degree and I think that when you are a non-traditional student you have a specific path in mind," Walker said. "A lot of times you already have a family and you have already been in the workforce and you sometimes have less time, so you usually have an idea of what you want to do when you come back."
Nearly 40 percent of students have never visited their school's career services office or even used their online resources, including 35 percent of seniors who said they have never used the resource.
"Employers have high expectations," Director of Career Services and Internships Philip Parker said. "They want students to be prepared in their major, but they also want them to be confident and to have those soft skills, that they are communicating well and they know how to work in teams. It's important that students take advantage of the career programming and the services so that they can develop these skills and they know how to navigate through the job searching process."
A key finding in the report says that 96 percent of chief academic officers, which at the university would be the provost, believe their institutions are effective at preparing students for the workforce. However, this is contradicted by business leaders as only 11 percent agree.
First-yearr students and sophomores say their education has equipped them for the workforce, while upperclassmen are less confident.
"As they are nearing graduation and they are seeing that light at the end of the tunnel, they are seeing that it's serious now," he said. "Perhaps they just begin to express doubts about moving towards their last years and maybe that translates into less confidence."
Less than half of current college students, 46 percent, believe their academic advisers provided helpful guidance about which courses to take. 28 percent said their advisor was helpful in identifying a career and only 30 percent said their advisor was helpful in identifying graduate degree options.
"There are so many resources out there that students just aren't using or they may not know about," she said. "Time is also a big thing. Especially at USI, a lot of our students also work so sometimes it's just hard to find resources that can actually help."