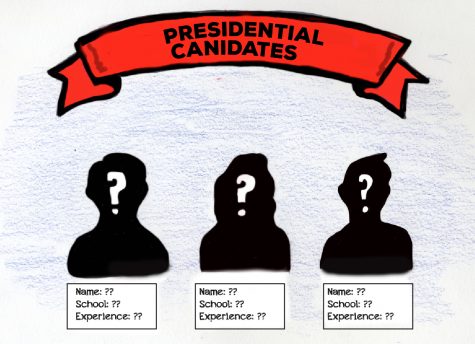 As the university seeks the institution's next president, the search committee is taking a closed-door approach to the selection process. Chair of the Presidential Search Committee and Board of Trustees Harold Calloway said applications to replace retiring President Linda Bennett are now in a more finalized phase of review.
Calloway declined, however, to comment on any potential candidates for the top job.
"We can't let you know who we took the applications from because of the confidential process," Calloway said.
Calloway did not elaborate on what the "confidential process" is. As the university was seeking its third president in 2009, the top three finalists were made known to the public months before an official decision by the Board of Trustees.
Some students said that they were concerned with university's decision not to give them a voice, calling the closed-door process "questionable."

"It just gives me a real eerie feeling," Corbin Atkins, a junior biology and cognitive science major said. "It feels like I'm left out of who is going to be in charge of major decisions that affect me."
Professor of economics and longtime faculty senator Peter Cashel-Cordo was on the search committee that recommended then-candidate Bennett in 2009.
Cashel-Cordo said he finds the university's need to have a higher level of confidentiality to the current search process as "surprising."
"I'm also surprised there is not more of an effort to engage the community in making recommendations to the Board of Trustees," he said. "Managerial style perhaps?"
The current presidential search committee formed in early October, and all of its meetings have been closed to the public.
In 2009, the three top candidates ran on the front page of an early January edition of The Shield. Candidates were vetted and included former university Vice President for Student Affairs Robert Parrent, Timothy Todd, dean of the college of business and public affairs at Kentucky's Murray State University, and President Linda Bennett.
Calloway said a list of 45 to 55 speculative candidates will go before the search committee in a Feb. 2 meeting in an attempt to "boil it down to the 10 best."
Calloway issued an update to the university community in December, providing the results of a presidential search survey.
The nationwide search firm Storbeck/Pimentel & Associates, which is responsible for seeking the new president, did not return The Shield's request for comment.
The university conducted a presidential survey to hear public input. Of the 380 total respondents, more than 30 percent were students. Fifty-seven percent of respondents wanted a president with "an understanding of the values and culture of USI," while 40 percent said they want the next president to "foster an environment of optimism, creativity, and innovation."
During the 2009 search, the general public knew the order of applicant's interviews, putting then Provost Linda Bennett as the last to be interviewed in late January 2009.
Bennett's presidency was announced during a public board of trustees session, with the final decision coming within "about an hour," former board President John Dunn said. That 2009 decision was made in January, months ahead of the planned decision this time around.
"We are looking at hopefully March 19 and the 20th on when to schedule the meeting for those candidates," Calloway said. "By the end of March or April 1, we will make an announcement."
The previous search committee did not accept any electronic evaluations due to confidentiality purposes. This is a notable change from 2009, when forms had to be printed out and sealed 24 hours before a candidate made a public presentation, something the university has not confirmed will happen this time around.
Calloway said that the committee will start identifying and conducting references on background checks, and from there, a recommendation will be made to the Board of Trustees before a final vote at the end of March.
As for Atkins, he said the main reason he chose the university was because he knew who the current president was and believed the university was transparent in their operations.
"When I chose this university, I knew who the President was, and there were certain things I  chose because of who President Bennett was," Atkins said. "The president made decisions that changed this school enough where I decided it's a good place to spend my money and get an education here."
Atkins said he just hopes the next president will be more visible on campus.
"I didn't see President (Bennett) a lot," he said. "But I would like to see more school-wide events, announcements and updates. It would be nice to create that sense of community. "
Bennett told The Shield the university shows integrity nearly a decade ago. 
"People want stability," she said as previously reported in The Shield. "That's why they trust USI."