'Shape of Water' deserves praise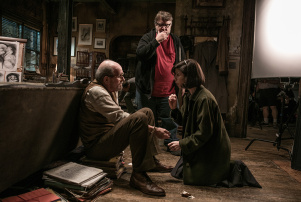 Photo by Kerry Hayes
They say beauty is in the eye of the beholder. Nothing could be truer in the case of Guillermo del Toro's latest film "The Shape of Water."
I went into this film knowing that it had already received critical acclaim. The film has received many accolades including a Golden Globe for best director and best score. With all this hype, it's easy to be a bit skeptical.
And there are many reasons to be skeptical about this film. After all, a love story between a fish man and a human woman is bound to raise some eyebrows. But if anyone can pull off a dark fairy-tale romance, it's director/co-writer Guillermo del Toro.
The movie follows a simple premise. Elisa Esposito (Sally Hawkins) is a mute woman living in Cold War Era Baltimore. Elisa lives in an apartment above a movie theatre. Every day she takes the bus to a secret laboratory where she works on the cleaning staff.
Her life takes an unexpected turn when a mysterious half-man half-fish creature (Doug Jones) arrives at the facility. I don't want to spoil the rest of the movie, but needless to say, the story takes many twists and turns as Elisa forms an unexpected bond with the creature.
On a purely technical level, the film is an absolute marvel. Everything from the editing to the cinematography, to the directing, is top notch. The film utilizes a blue and green color palette that is very pleasing to the eye. And despite the majority of scenes taking place at night or indoors, it still manages to be a very vibrant and colorful film.
Alexandre Desplat's score brings the story to life with classic show tunes and a real 1960s vibe. The film has some unexpected musical moments that will make you want to tap along with the characters.
The creature itself is also very impressive; seamlessly blending practical makeup and CGI to make the creature appear both monstrous an appealing at the same time.
But the strongest suit of "The Shape of Water" has to be the performances by the actors. Sally Hawkins absolutely shines as Elisa. Hawkins uses her facial expressions, body language and an amazing use of American sign language to really breathe life into her character. The character of Elisa is brimming with charm and depth given to her by Hawkin's performance.
Michael Shannon plays the villain and he manages to create a character that's both extremely hateable but frighteningly real at the same time. What makes Shannon's portrayal so unsettling is how many people like him we see in real life. One of the most compelling parts of the movie is watching the mental state of Shannon's character deteriorate as he slowly begins to lose control.
And of course, you have to give credit to Doug Jones for really bringing the amphibious man to life. Like Sally Hawkins, his character doesn't speak; but he's able to convey many complex emotions even under layers of monster makeup. Jones is really able to capture the alien-like quality of the creature. Jones is able to create something that's not quite man, but not quite beast either.
I also need to give a shout out to Octavia Spencer and Richard Jenkins who played wonderful supporting roles as Elisa's co-worker and roommate, respectively. Spencer and Jenkins brought some much needed levity and they were my personal highlights of the film.
At its core "The Shape of Water" is a story about outcasts. Pretty much all the sympathetic characters in the film are outcasts in one way or another.
In one very memorable scene, Elisa tells her friend that the creature sees her for who she is and not what she lacks. This overarching theme of finding acceptance within ourselves and with other people brings real heart to the film.
Even though the film sports dark elements and the occasional gore, it never feels like a grim experience. "The Shape of Water" presents a compelling narrative about seeing past outside appearance and fighting against oppression in an ever-changing world.
It's a Beauty and the Beast story for an adult audience that will be making a splash for a long time to come.
(5 / 5)