Women arrested for drunk driving on USI-Burdette Trail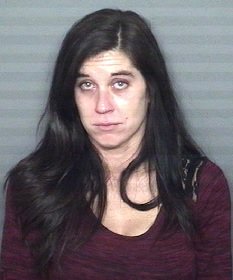 A motorist was arrested for drunk driving Saturday night after their jeep struck a concrete safety pylon on the USI-Burdette Park Trail.
A sheriff's deputy saw 33-year-old Tara Evans of Evansville speeding through a parking lot near the entrance of the trail around 9 p.m. in a white Jeep Wrangler.
The Jeep was speeding on the pedestrian-only trail and disregarded all attempts by the deputy to pull the vehicle over until it hit a concrete pylon meant to prevent vehicles from entering the trail.
After striking the pylon, the driver shifted into reverse and backed into the front of the deputy's marked patrol unit.
When the deputy asked if she knew where she was, the driver replied that she was "driving to a friends house off Schutte Road."
Evans admitted to consuming alcohol prior to the crash and failed the field sobriety test on the scene. She agreed to perform a certified chemical breath test at a different location and the test determined that Evan's blood alcohol level was .18 percent, more than double the legal limit of .08 percent.
Evans was subsequently arrested and booked into Vanderburgh County Jail with two Class A Misdemeanors. No pedestrians were on the trail at the time of the crash and both vehicles sustained minor damage.
Update: Evans has been released from Vanderburgh County Jail with no bond