Hansen returns from suspension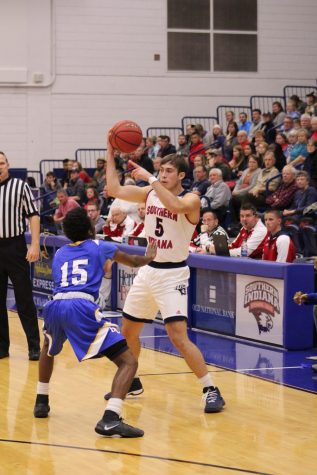 He's back.
Nate Hansen is finally back.
The junior guard/forward has played in two games since being suspended for the first three games of the season for a "violation of team rules."
In those two games, USI (3-2) is 2-0 and has outscored its opponents 180-143.
With Hansen sidelined, USI went 1-2. In the losses, poor three-point shooting plagued the team.
The Screaming Eagles shot 30.8 percent (12-of-39) from three-point land in the two close losses to Augustana (77-73) and Hillsdale (77-70).
But Hansen is back and his three-point prowess has helped the team's shooting woes.
"I knew I needed to be out there for the team because I play a big role," Hansen said. "I knew that when I got back it would be good for us. I wish we were 4-0 right now."
Hansen's first taste of the regular season came against Malone University (1-1) in the conclusion of the GLVC/GMAC Crossover last Saturday.
USI not only won the game 87-76, the team finished 13-of-23 from beyond the arc, which is good enough for 56.5 percent and the most threes the team has scored all season. Hansen added five of those threes himself by going 5-of-7 from deep and finished second on the team with 21 points.
Hansen's second game back was in the men's home opener Tuesday night against NAIA school Brescia (0-3). He went 2-of-3 from the behind the three-point line. The junior finished with 10 points and shot 44.5 percent (4-of-9) from the floor.
As a whole, USI shot 50 percent (8-of-16) on three-point attempts and won the game handily 93-67.
"We feel like (Hansen) can help us with perimeter shooting," men's coach Rodney Watson said. "What we have to see is if he'll impact our team once he's on a scouting report and they take that away."
So far, with just two games under his belt, Hansen has been able to get his shot off and with another shooter to draw defenders, it opens the floor up for other players, including the two starting captain guards, Alex Stein and Marcellous Washington.
Stein and Washington each took over 12 shots per game in the team's two losses. With Hansen on the floor, that number has shrunk, even though it is a small sample size, but the two are shooting a higher percentage.
Stein shot 48.4 percent (15-of-31) and Washington shot 43.4 percent (13-of-30) in the two losses compared to 66.7 percent (14-of-21) for Stein and 56.3 percent (9-of-16) for Washington in the two wins.
"I think he opens up a lot of room for both of us to make plays off the dribble," Stein said. "Guys are going to have to push up on Nate because he's a great shooter and he's a great scorer."
Though there is still an unanswered question surrounding Hansen's arrival: how will he answer the call defensively?
Right now, as Watson points out, it's too early to tell.
"We're going to see defensively if he can get himself in position," Watson said. "Can he impact (the opposing team's offense) by being in a good position so they don't get as many easy catches? Can he guard his man? I don't know yet. We don't know that."
Though Hansen's return helps the team offensively, and the hope is he can be just as instrumental on the defensive end, that doesn't eliminate the fact that he missed time when the team could have used him.
The team began the season with a loss to Augustana (3-0). That's the first time since 1985 USI lost its season opener and after a loss to Hillsdale (3-0), the team sat at 1-2, which is the first time the team has had multiple losses this early in the season since 2008.
But as Watson noted, there are more import issues at hand for the Screaming Eagles.
"What's really unfortunate is, it appears that (Hansen's suspension) has had a pretty significant impact on the start of our season," Watson said. "… The issue is how this has impacted our team and our program. Let's hope this has a very positive impact on our program moving forward. That there's an understanding when team rules are violated, they're not going to be swept under the rug."