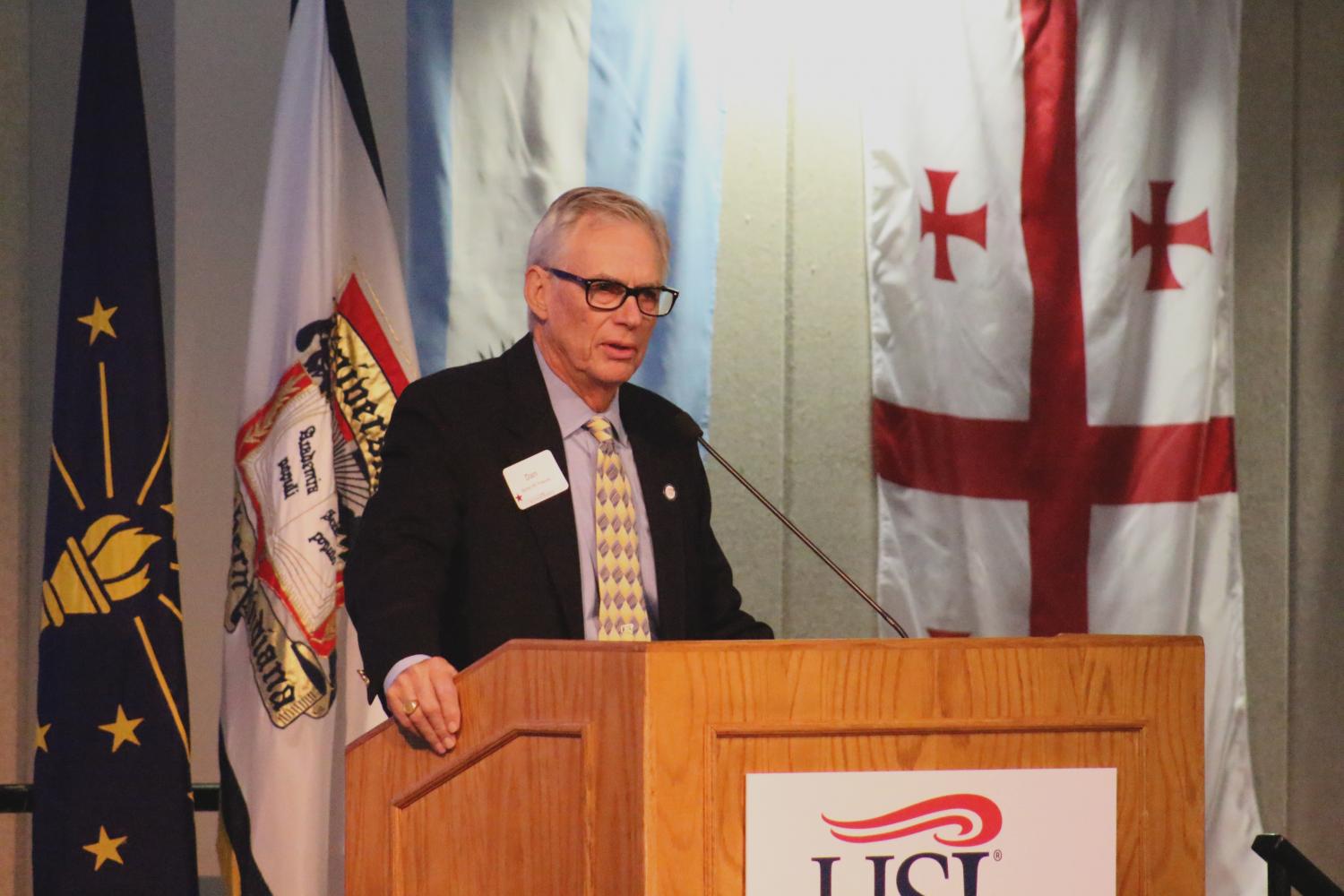 Megan Thorne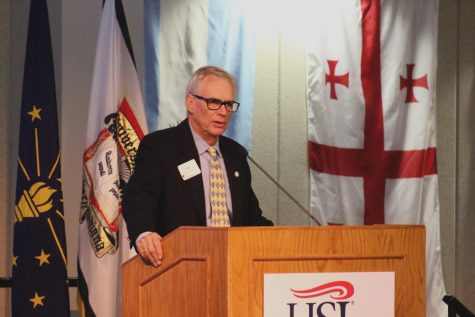 Dan Fuquay approached the podium dawning his Jerry Garcia tie, welcomed by students, faculty and alumni who will receive similar hospitality from the facility that will bear his name.
The university Alumni Association awarded Fuquay, along with his wife, Janet, the Honorary Alumni Award, an honor given to one or more people who have demonstrated outstanding service to the university, at the Founder's Day luncheon Wednesday.
The Fuquays donated $2 million to the Fuquay Welcome Center, a new entrance point currently under construction. The expected completion date is fall of 2018.
"They are part of our USI family and have established ongoing and meaningful relationships with USI students, alumni, faculty and staff," President of the Alumni Council John Raisor said. "The Fuquays are dedicated to helping this institution to continue on our path of excellence."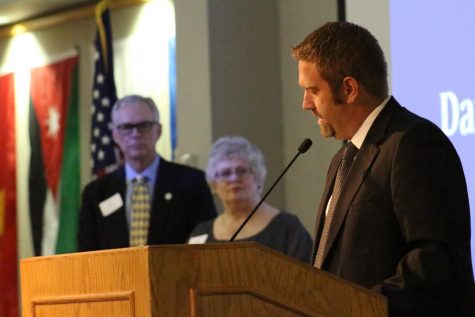 Along with donating funds for the Welcome Center, the Fuquays also aid students with a presidential scholarship endowment in their name.
"It was two years after I had left Evansville to go to college and it was one year after Janet left to go to college, and frankly if this would have been here, we wouldn't have left," Dan Fuquay said. "We are honored by the recognition and hopefully we can continue to participate with the university."
The university was founded 52 years ago on Sept. 15, 1965, under the university's original name, Indiana State University – Evansville. Assistant Director of the USI Alumni Association Caylin Blockley said the event was held Sept. 13 instead of Sept. 15 due to scheduling complications with the award recipients
The event, held in Carter Hall, was decorated with flags from the 45 countries where alumni currently live. Blockley said the annual event is a tribute to the founders.
The event honored the founders of the university, all of whom have passed. The last surviving founder, Rolland "Ron" Eckels, died July 2.
Eckels, a staunch supporter of the university gaining independence from Indiana State, was president of the Southern Indiana Higher Education Inc. (SIHE). SIHE raised much of the funds that helped purchase the land USI is currently housed.
"Ron Eckels was a devoted and great champion of our university," University President Linda Bennett said. "Though we are deeply saddened by his loss, his legacy will live on. We are grateful to Ron Eckels for his passion, and devotion to USI and to the thousands of people who benefitted from his work."
Two other awards were given out during the event. The Alumni Association presented Janet Baas with the Alumni Service Award and Kevin Celuch with the Faculty Recognition Award. Baas, a former student and employee at the university, currently serves as the President of the Old National Bank Foundation and was a volunteer for USI's fundraising campaign, Campaign USI: Elevating Excellence.
Celuch, the Blair Chair of Business Science, was recognized for co-creating the Entrepreneurship Minor at the university.