Grab your brooms in time for Quidditch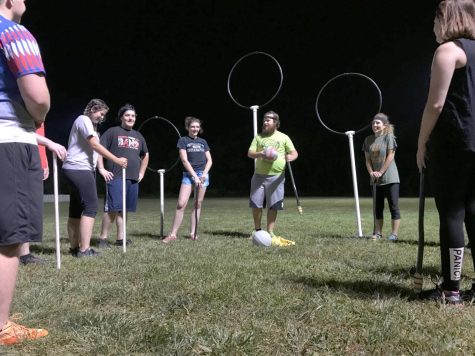 Flying on a broom can be difficult, with a lack of magic and the amount of gravity that exists on the Earth's surface, but that hasn't stopped the USI Quidditch team.
The team was established as a club sport in 2011 by then sophomore English education major Amber Lynn-Seibert.
It's been six years since the team's introductory meeting and even though Seibert and the other founding members of the team are long gone, USI students are still picking up their brooms and chasing after the golden snitch.
"I liked Harry Potter and I played sports in high school, so I figured, this was perfect," Kynzie Rayls, Quidditch team president, said.
Rayls, a sophomore criminal justice major and chaser on the team, said she first learned about the USI Quidditch team at last year's involvement fair, and she knew nothing about playing the sport other than its inspiration coming from the "Harry Potter" series.
One aspect of the game that surprised her the most is the level of physicality involved.
"It's very physical; we had someone get a minor concussion at one of our tournaments and somebody on another team had their elbow dislocated (last year)," she said. "It can be very physical, but you don't have to be extremely athletic to play."
Rayls said she expects any new players the team adds this year to be just as unfamiliar with how Quidditch is played as she was going into her first practice, but the team has a veteran coach in Cole Musgrave to teach them as the season progresses.
Musgrave, a 2016 USI alumnus, said at the beginning of last season he became the coach because he was the most experienced with Quidditch and had the most time to do it.
He started on the USI Quidditch team in 2013 during his sophomore year at USI. He said an event the team was having called "Quidditch on the Quad" is what lead him to the team.
"I went and tried out with one of my friends, and we fell in love with it," he said.
Musgrave said his desire to coach the team comes from wanting to give back to the game that's given him so much.
"I've met some of my best friends through the team," he said. "It's been a lot of fun playing and anything I can give back to that team, I will gladly do."
The origin of Quidditch comes from "Harry Potter," but that doesn't mean potential members of the Quidditch team need to be familiar with it. Musgrave said Quidditch is a sport unlike anything else, and even though the inspiration for the sport is rooted in a popular book series, that's only a part of the lore and not information necessary for understanding how the sport works.
The team is planning to travel to Indianapolis on Sept. 23 to compete in a tournament. After that, Rayls is working on a way for USI to host a tournament this semester, but nothing has been agreed upon yet. The team practices every Tuesday and Thursday from 8-10 p.m. at the Broadway Recreational Complex.