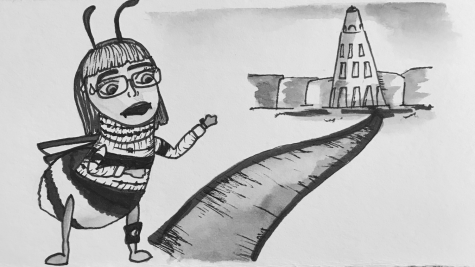 Beads of sweat dripped down my forehead and my knee was pulsing as I limped to campus from the McDonald West apartments.
This summer I went to physical therapy twice a week for three months and wasn't allowed to have a job, go for walks, go swimming or even drive my car. I was diagnosed with chondromalacia patellae, also known as "Runner's Knee," a condition where the cartilage under the kneecap is severely damaged.
A physical disability that was not treated as one when I came to the university.
After receiving the letter from my doctor that I am not supposed to walk more than 200 yards at a time, I took it to the disability office on a Friday and was told that I would have my parking decal no later than the middle of the week, and they were going to aim for Monday.
That didn't happen.
On Tuesday I walked to and from campus three times, unable to use the bus due to a tight schedule. I was in agony, and all of my hard work through physical therapy was unraveling.
Every time I do more with my knee than what I'm supposed to, I risk surgery.
That day was the breaking point.
After multiple calls to the disability office and parking department I found out that paperwork hadn't even been documented. This was on Wednesday, when I was supposed to have it all squared away.
After going down to the public safety office and personally asking, I finally received the vehicle tag four days later.
Although I do appreciate the university eventually working with me to get what I needed, I feel that the process could've been accomplished in a more efficient manner.