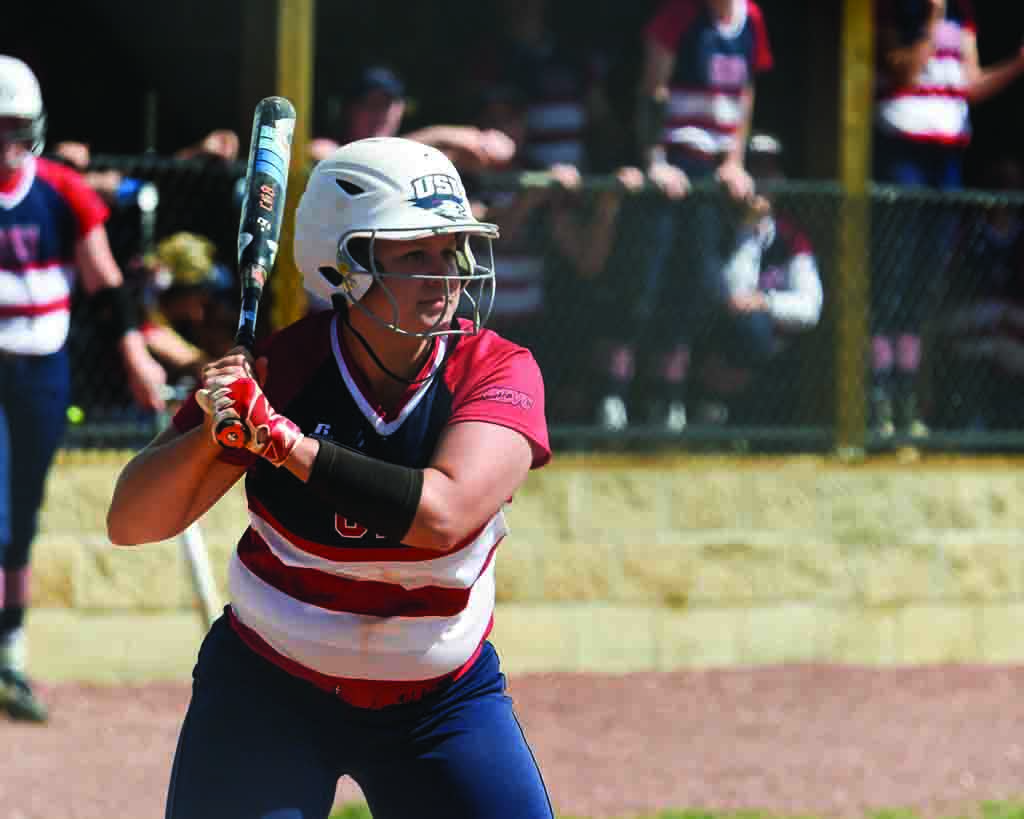 Photo courtesy of Photo Services
On softball's senior day, No. 5 Southern Indiana split a pair of games against Truman State before the festivities could begin.
The day started off promising with the team entering game one with its highest national ranking in program history and a seven-game win streak that stretched back to April 8.
With freshman pitcher, Jennifer Leonhardt (23-1), in the circle for game one, Southern Indiana took the win 9-5.
Leonhardt pitched 6 1/3 innings and sophomore utility player, Caitlyn Bradley (3), picked up the save after pitching the rest of the seventh inning extending the win streak to eight games.
Senior shortstop, Lexi Reese took over game one on offense. She started the day by hitting a home run to left center in the first inning which put USI on the board. In total, Reese went 3-for-5 at the plate with five RBIs.
Though she only had one hit over the last five games, Reese came up big on the day her and the four other seniors were honored.
"I had been in a slump in the games before that," Reese said. "I came out with a new mindset. I felt like we were seeing the ball a whole lot. I was seeing the ball better and hitting for us is contagious."
Reese, who transferred to USI after spending her freshman year at IU, said she's thankful the team accepted her as soon as she arrived in 2014.
"I couldn't ask for any better senior day teammates," Reese said.   
The team went 13-for-31 (.419) at the plate in game one, which is its second best day at the plate during the month of April and nine runs is the most the team has scored since March 24 when they scored 10 against Trevecca Nazarene.
They followed up the most prolific day on offense in the past month by being outscored 7-3 in game two and finished 5-for-26 (.192) at the plate compared to Truman who went 13-for-33 (.393).
"I think we had a lot of really good, solid contact line drives, right to (the Truman players)," Sue Kunkle, USI's head coach, said. "We had four hard hits to the third basemen and one to the pitcher that almost ripped her glove off."
Kunkle said when Truman pitcher, Lauren Dale (15-6), started throwing a changeup, the offense started struggling to get hits. She said the defensive mistakes also took the team out of the game mentally.
Kunkle said even though the team split the games with Truman, it was still an important day for the team as they honored the senior class.
"Our team's a family," Kunkle said. "I feel it's like when you lose a big chunk of your family and they move on. It's like dropping your kids off at college for the first day and saying goodbye to them."
She siad It's going to be especially sad when the teams steps out on the field for the first day of practice next season and players that have been staples on offense and defense will no longer be putting on their jerseys or lacing up their cleats
"I always tell them to leave the program better than they found it and they all have," Kunkle said.
Haley Hodges, USI's senior catcher, who had witnessed three other Senior Day's before taking part in her own Sunday, said it's always a tough day because the underclassmen players have to say goodbye to their graduating teammates.
She said it's a different feeling because she's one of the players being honored this time instead of cheering her senior teammates on as their families join them on the field for gift giving and picture taking.
"It makes these past four years feel more real," Hodges said. "They're giving us a thank you for being seniors and sticking around for four years and for the marks we've left on this program. It's an honor to be recognized like that."