Baseball back to winning ways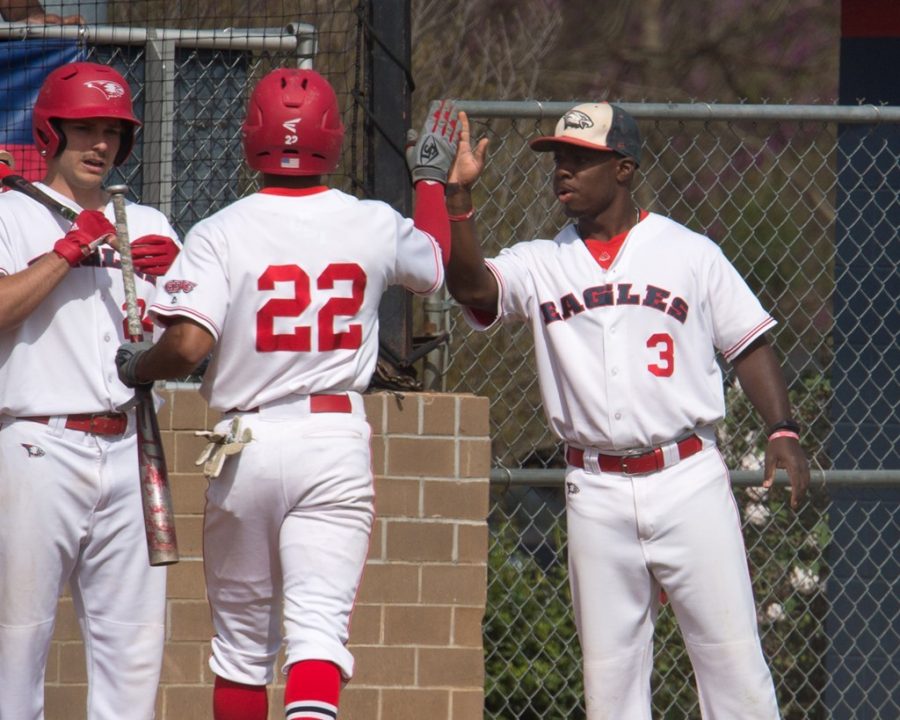 After completing a four-game sweep of the University of Wisconsin-Parkside Sunday, the USI baseball team is over .500 for the first time this season.
The series offered little drama as the Eagles outscored the Rangers 31-7 over the two days of play.
Game three, a 4-3 victory, was the closest of the weekend. Senior Jaylen Quarles, designated hitter, finished the game with three RBIs. Two of them came off a triple to centerfield in the fifth inning, and the other was the game-sealing run.
With the bases loaded and the count full, Quarles stayed alive long enough at bat to get the fourth ball, sending him to first and shortstop Angel Torres home for the walk-off  in the seventh inning.
Quarles said moments like that are part of the reason he wanted to transfer to USI from Southeastern Illinois.
"Coming out of (junior college) my sophomore year, USI was my number one choice," Quarles said.
His only hit of the game came off a pitch he said he didn't know he would be able to make contact with.
"Coach Arch had been telling me I've been too close to the plate, so he scooted me back. I didn't think I would be able to reach that pitch (in the fifth)," Quarles said.
Quarles missed the entire 2016 season due to flat feet, or having a collapsed arch in his foot, and instead opted for a medical redshirt, and said he's "blessed" to be healthy now and contributing to the team.
Sunday's second game was the most lopsided victory USI had all weekend. They outscored Wisconsin-Parkside by 11 runs in a 14-3 win.
USI knocked the ball into play 16 times in game four. Three of those hits came from junior right fielder, Nick Gobert, who went 3-for-4 and brought in four runs after going 0-for-3 in game three.
"I tried to simplify things. I was trying to do too much in game three," Gobert said. "I was swinging at balls I normally wouldn't swing at. Game four was about hitting my pitch. When I got a hitter's count, I made the pitchers pay for it."
Gobert said the team felt good going into the last game and its main goal was to drive the ball.
"It was a contagious feeling," Gobert said. "We all thought we could follow up the guy in front of us and just smack the ball around. It's all about confidence. Once we built that, we weren't afraid to go up there and swing and hit the ball hard."
Head coach, Tracy Archuleta, said he felt the team did a great job pitching throughout the series, and on offense the team took the pitches they could hit instead of trying to force something that wasn't there.
For the series, USI put up 16 more hits than Wisconsin-Parkside in two fewer at bats. They hit 39-for-114 (.342) compared to their opponents who hit 23-for-116 (.198).
Archuleta said the team hasn't necessarily been thinking about how many wins they need to be above .500, because its focus is to win as many games as possible.
"Our job is to go out and win series. We can't worry about what everyone else is doing," Archuleta said. "The job is 'hey, when you go out, you're going to win that baseball game.' Where we're at when the year is over is where we'll be at. We're going to have to keep grinding and winning pitch by pitch."
Archuleta said the team is starting to get better, and though it's unfortunate they couldn't string together more wins sooner, the team can't dwell on that.
"You build from the wins and how you're able to win," Archuleta said. "You're concentrating on the adjustments you make in order to get w's."