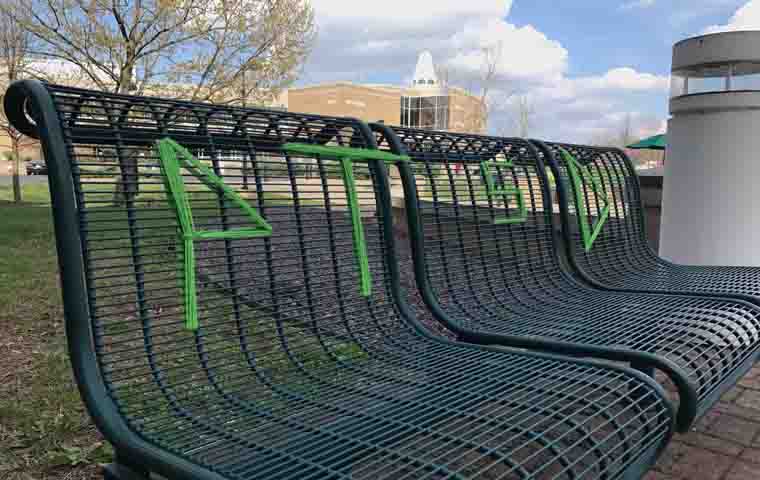 Megan Thorne
Last Sunday, students from Leigh Anne Howard's Advanced Performance class 'yarnstormed' campus in an effort to visually communicate the ideas and theories they discussed in class. The Shield sat down with Howard, a Professor of Communication Studies, to talk about her class project.
The Shield: What was the yarnstorming for?
Leigh Anne Howard: This was a class project, I teach a class for juniors and seniors in communication studies called advanced performance studies and in that class we usually have a unit looking at visual communication. Students usually do a project working with the kinds of ideas and theories we work on. So this year the yarn storming project was the project connected to the visual unit in that class and so students worked in groups, we had four student groups and each group member had to recruit an outside of the class volunteer to help the installation.
The Shield: Why would this be more effective instead of doing social activism on social media, how would it be more effective this way?
Howard: I would be reluctant to say it's more effective, but it's very different,.Often this kind of work is unexpected, so you're walking through wherever you're going and all of a sudden there's sweaters on trees and people start talking about it, one of the things I did last night was I checked my Facebook and people had already popped some pictures of it, 'does anybody know what this is?' I think it's one of the things in communication is to keep in mind that an effective communicator understands his or her audience, understands there are multiple ways of getting a message across and then picking the way that has the most impact based upon that message.
The Shield: Was this all over campus?
Howard: Yes, but it was primarily concentrated here in Liberal Arts. One of the student groups worked to create awareness of mental health disorders, so that's one that's probably spread the most. There's some here on the benches in LA some by Art Center, some by HHP and there was one by the Orr Center, but someone took it down and then the sweater one is over by the courtyard. It's a relatively small class, there are 10 people in the class, so 10 people and their partners did this in three hours on a Sunday. We've had a lot of support for the project and that's been sort of fun. I sent out a call on social media to people  to donate yarn and we got yarn donations. We were able to work with Dean Beeby as well as the provost office and physical plant. In an ideal world you wouldn't go through and get those permissions, but you know often people see this work as vandalism and I didn't want anything adverse  to happen to my students as they were putting these things up.
The Shield: Have you done a project like this before?
Howard: This is my first yarnstorming to work with students, I've seen it, I've read about it and I have a colleague who has done some research related to it. Honestly, I've always wanted to see what would happen and again it's just fun. I'm learning and they're learning at the same time and I like it when students and faculty members learn from each other.
The Shield: How long did it take?
Howard: Most of the action had started by 12:30 or 1 (Sunday) and some people started a little earlier because of scheduling and probably maybe until 4-4:30 all the groups were working. One group finished earlier, around 2:30, and they jumped in to help one of the other groups. Again that kind of cooperation is characteristic of this kind of project and that was good to see.
The Shield: How long will it be up for?
Howard: About three weeks before we take it down.
The Shield: What do you hope that your students learn from this experience?
Howard: I hope they learn something about the power of visual. I want them to learn about the power of aesthetic communication, that's what this is about. A lot of times we think of communication and we think of interpersonal communication or we think of public speaking or we think of mass messaging and we don't often think of performance communication. I also hope they learn about problem solving, decision making, teamwork, cooperation. I think those are the things that aesthetic messaging brings. Regardless of what your major is, those are things you need to know. When you look at what employers ask for, they want people to be able to communicate critically, creatively and clearly.
Responses have been edited for clarity and length.