Hodges adds name to USI record books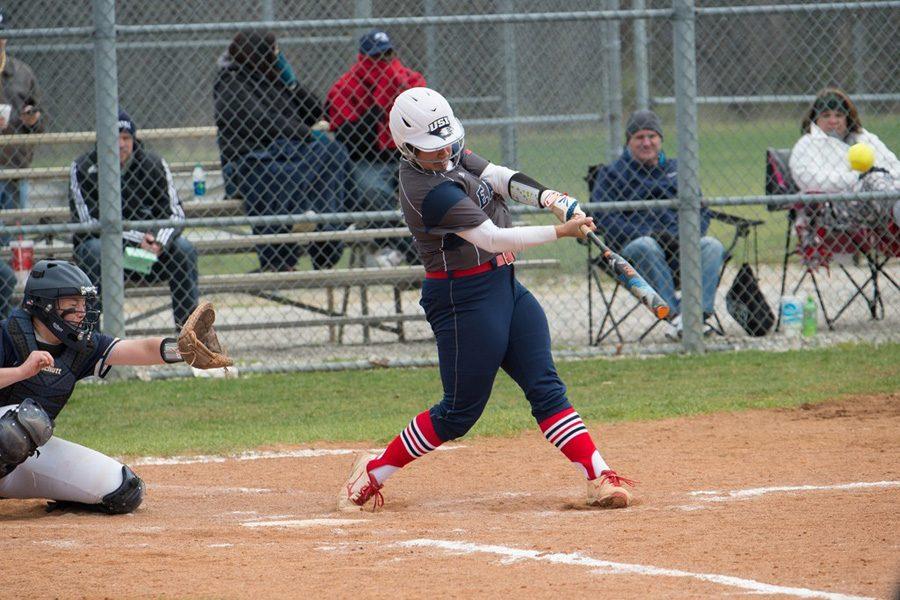 Haley Hodges, softball's starting catcher, is the new home run (39) and RBI (152) leader for the program.
The senior from Portage, Ind. took sole possession of the records  March 22 when the team played a doubleheader against Trevecca Nazarene.
She was also named the Great Lakes Valley Conference Softball Player of the Week after she hit .579 and had eight RBIs over the six games played last week. The team went 5-1 in that span.
"I think it's well deserved. She's a tremendous hitter and she's earned it," softball head coach Sue Kunkle said. "That's her forte. That's what she does best, and across the conference that's what she's known for."
Kunkle said Hodges is disciplined at the plate and if there's something she needs to fix with her swing, she has done well to work at it.
"There's been times through the season already where she's been a little off and she finds a way to work through it," Kunkle said.
She said no one knows how successful a player is going to be when they first begin their college career, and that depends on how dedicated the player is to the team and the sport.
"I'm happy for her. I'm proud of her. It's nice to see when a player comes in and they grow from one level, and now she's leaving a completely different player," Kunkle said. "That means a lot."
Hodges numbers after her freshman season were the lowest of her career and are outliers when compared to her career statistics. Her first year stat line was .216/.275/.324 compared to her career numbers of .347/.426/.655.
"After my freshmen season, I was pretty frustrated. Even back in high school I had always been a pretty good hitter. I was losing a little bit of my confidence and I wasn't really trusting myself like I should have," Hodges said. "After that year I started refining my swing and paying attention to what felt right so I could make better contact."
Hodges said she knew she had the ability to produce on offense, but she had to believe in herself, and  working on gaining confidence helped her turn into the player she is now.
"When I came to play softball here I never thought I'd be a standout player. I never expected to break records," Hodges said. "It's still a little unreal to me that I'm able to put my name on that and have ownership over not just one, but two records at USI."
Hodges said she wasn't aware she was close to breaking the RBI record until someone tweeted about it and brought it to her attention, and she wasn't actively trying to break the records.
She said it worked out well that she was able to break both records on the same day, but she wasn't worried about breaking them. Hodges said helping the team win is what matters the most.
Alumna Rachel Bowling, has been the record holder since the conclusion of the 2003 season.
Hodges said she hasn't spoken to Bowling, but she saw a comment Bowling made on a Facebook post congradulating her, and wishing the rest of the team well as the season continues.
"I think our team as a whole is the best team we've had in a long time," Hodges said. "I want us to make a run for a national championship. I think we have what it takes to make it far in the postseason, and I'm excited to see how far we can get."