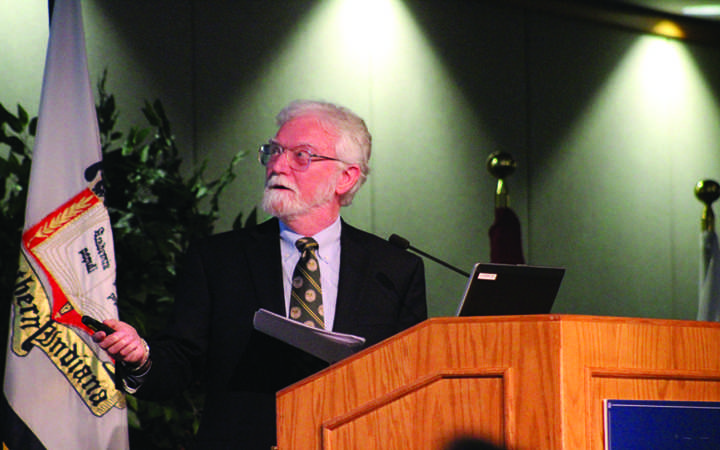 Photo by Jenna Bowman
Immigration continues to be a topic of debate both at the university and abroad.
David Haines, a professor emeritus of sociology and anthropology at George Mason University, presented his discussion "Refuge in America" in Carter Hall Wednesday night.
The discussion was centralized around Haines' book "Safe Haven? A History of Refugees in America."
"There always has and always will be a resistance to refugees," David Haines said.
The discussion attracted students, faculty and community members and focused on the history of refugees in America, and what a future America with a different attitude toward those seeking our safe haven.
"The concept of refuge in America has been challenged," Haines said. "We are a different America than we were even a couple months ago. We have withdrawn from our heart of refuge."
Joel Tshite, an electrical engineering sophomore, said finding out about the history of immigration and refugees in America was "mind-blowing."
Tshite said he never knew America's roots were so deeply connected with foreigners fleeing to America, and the point Haines made about immigrants assimilating into American culture was important.
"When you come to someone else's house, you have to learn something about them," Tshite said. "You don't have to change who you are entirely, but you have to appreciate the difference in the people you are staying with."
Haines reminded the audience that Trump's executive order is not the first of it's kind, and there has been a constant flow of support and resistance toward refugees.
The executive order, which temporarily bans immigrants from Iran, Somalia, Sudan, Yemen, Syria and Libya for 90 days, is the revised version of executive order 13679. The new order leaves out Iraq from the list of banned countries and suspends immigration from Syria for only 120 days instead of indefinitely.
The former order was stuck down by the 9th Circuit U.S. Court of Appeals after a three-judge panel ruled to uphold a federal judge's restraining order on the immigration ban in February.
Haines said there is no easy way to decide how the new foreign policy should be handled.
"It's a messy, complex process," he said.
Haines said the best thing students can do is stay informed.
"Americans are so misinformed about the number of refugees coming into America," Haines said. Americans are so misinformed about what happens to the refugees once they come into America."
Haines said the probability of being killed by a terrorist is 1 in 3.6 billion, and he encouraged students to keep up with events within and outside of American borders.
"You have a greater chance of being in a car crash or being killed by a bolt of lightning," Haines said. "Keep your mind open when you hear about issues. Pay attention to issues overseas. Most importantly make sure the information you are receiving about the issues is accurate."