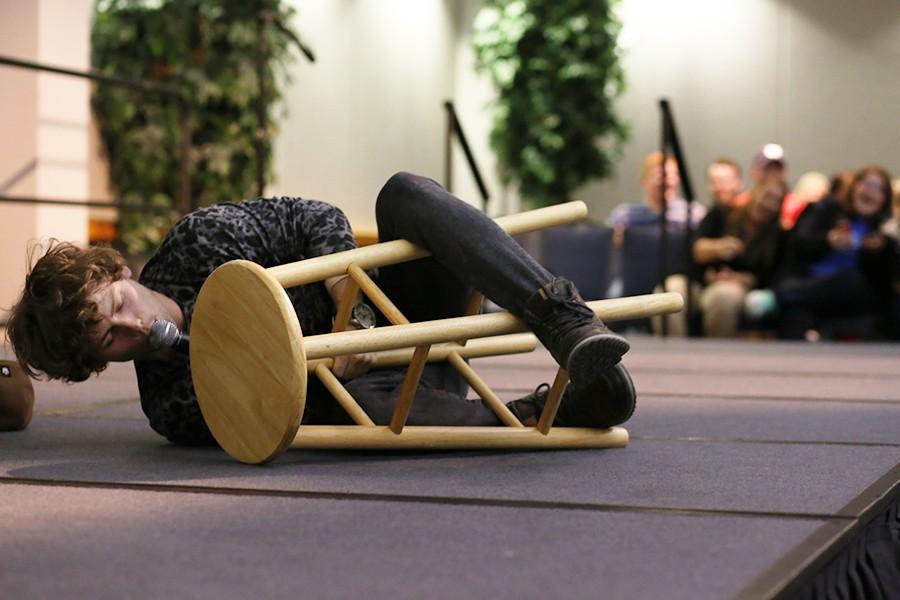 Alyssa Smith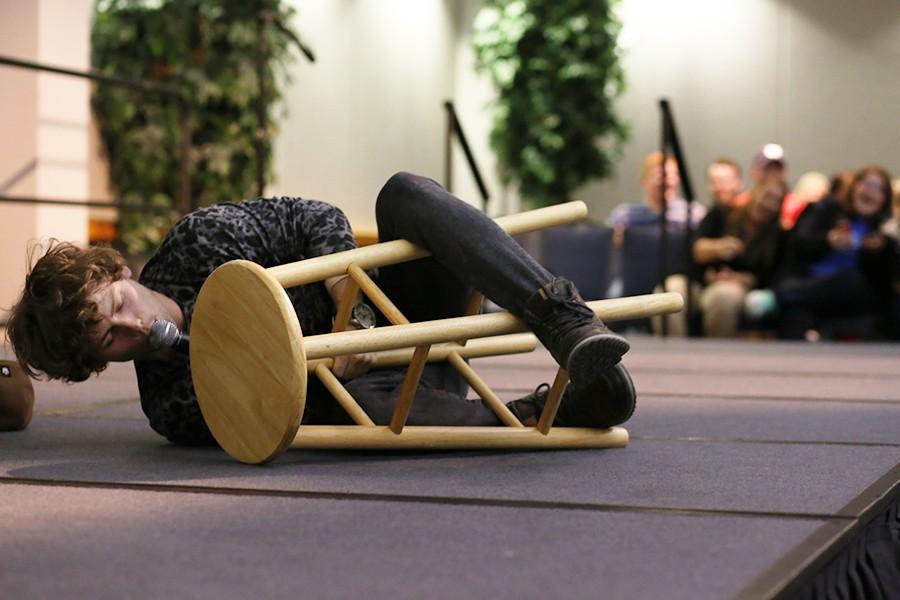 A softball hit Drew Lynch in the throat at age 20, causing vocal trauma and a permanent stutter.
The aspiring actor's dreams of starring in "Mad Men," "How I Met Your Mother," Disney shows and Nickelodeon hosting jobs went down the drain.
"After my accident, they all dropped me," he said. "They all just said come back when you're better, and I never went back, because I'm not better."
Lynch took his adversity and turned it into comedy.
Students cheered Wednesday night as Lynch performed his latest comedy act at Carter Hall during SpringFest.
After writing his frustrations on a hospital napkin, Lynch said he went on stage and held his first comedy routine to get through the pain.
"I remember that the jokes weren't great, but the audience was so into it because I was so emotionally vulnerable," Lynch said. "Right then was when I made the decision that maybe I can do this, maybe acting is not my thing right now but maybe that's a thing that comes around after."
Lynch was runner-up for Season 10 of "America's Got Talent" in 2015. Since then, he has opened for Bo Burnham and performs nationally. He also started acting again and sings.
Before his injury, Lynch said he used to let his problems consume him.
"I didn't have compassion or empathy for someone else's situation because I was so enamored with (my own struggles)," Lynch said. "I feel like when you come out and see stand up comedy, even if you are hearing someone complain about their problems, it makes you feel better about yours."
When it comes to stand-up comedy, Lynch said he feels he can just talk.
"Comedy is a brilliant vehicle, because if you say your problems first, you are taking away that power from other people," he said. "I say I'm pasty, I'm short, I have a stutter and I have a space in my teeth, but I'm aware of those things and I can make fun of myself for them."
Lynch said when he makes fun of himself, he takes away the opportunity for others to get to him.
"You know when someone says something that pissed you off and you don't have a good come back at that time but like an hour later you're like, 'Oh, I would've got them with that.' Well, comedy is what that is," he said.
Lynch said he used to think comedy was only about getting people to laugh.
"If I can go on stage and somehow change someone's point of view or their perspective or they leave the room and liked it, then that gives laughing a deeper purpose," he said. "You're not just a clown, you're not just Charlie Chaplin–not to discredit how brilliant he is–but I just feel like you got to have a purpose with what your art is."
He said without a purpose, art is just a hobby.
No one wants to see someone on stage talking about how great their life is, he said. That's why he couldn't do comedy before the accident, because he didn't have problems fans could relate with.
"People identify with comedy because there is a commonality," he said. "Something you both agree on."
Lynch said he is thankful "America's Got Talent" gave him a platform.
"I never wanted to be evaluated as a comedian who is a 'charity case' or who only got this far because people feel bad and think my jokes are about my stutter," he said. "That's not true, and that's not true of (Wednesday) night. 70 percent of the jokes I do have nothing to do with my voice, it's about what is going on right now."
He said most people already view themselves as being defeated so it's good when some has a dream.
"When I had my sports injury, I felt like I had those two decisions, I could either work at a ticket booth in a comedy club for the rest of my life… or go through the struggles."
Lynch said in the beginning people thought his stutter was just a character he was putting on, he said having people not believe in him made him push harder.
He said he doesn't consider himself disabled and he doesn't like how some people let adversity affect their whole life.
"My favorite people that I meet are the people that own exactly what it is that they have," he said. "A sense of humor is a great way of dealing with it."
As Lynch took the stage he began to talk about a time he went to Target and an employee there named "Margaret" told Lynch to calm down. He responded with the question, "Do you want me to become a cat?"
As he started purring into the microphone he dropped to the ground, he straddled a nearby stool and started rolling around, leaving Julia Johnson laughing hysterically.
"The cat joke was hilarious," the sophomore English major said laughing. "I  didn't expect him to get on the floor with a stool and kick around. It was just so funny."
If Lynch returns, Johnson said she will buy the first ticket.
As soon as Lynch spotted Juanita Johnson with her bug antennae headband, he instantly worked her into his material.
"I wasn't expecting it at first, and it was really awesome," the sophomore biology major said. "Once he pointed me out, I literally cried from laughter. And every time he pointed me out after that I cracked up, it was great."
After Lynch made a joke about the amount of plants in Carter Hall, he blamed it on Johnson because she was the "bug" of the night.
Lynch's laugh was Johnson's favorite part.
"I bet for him having that injury and realizing he is going to have a stutter for the rest of his life was a hard impact on him," Johnson said. "But when he makes other people laugh not only does it make us feel happy but he probably feel better about himself, too."