Three students arrested in campus drug bust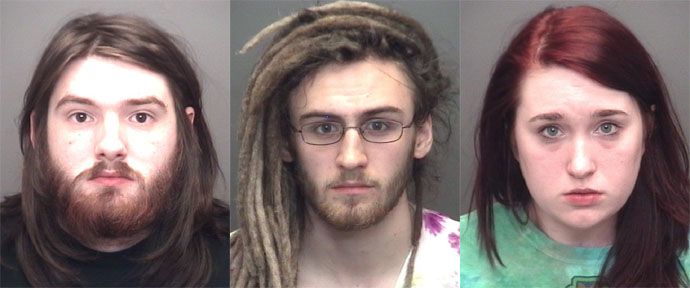 Sheriff's deputies arrested three students on drug-related charges early Monday morning at an on-campus apartment.
Freshman business administration major Quentin Gregory, freshman biology major Claire Edwards and sophomore business administration major Drake Whitney were identified by authorities.
According to a Vanderburgh County Sheriff's Office arrest affidavit, investigators found sheets of suspected LSD-acid, glass bongs and pipes used to smoke marijuana, marijuana and a grinder inside the Jackson apartment building in McDonald West.
The apartment belonged to Whitney, 18, and Gregory, 20, according to the probable cause affidavit.
Public Safety received a tip about possible drug activity from residents who said they could smell the odor of narcotics, according to the affidavit. They then contacted the sheriff's office to take over the drug investigation.
Public Safety reported the incident just before midnight.
Gregory reportedly said he was selling the acid found in the apartment.
Authorities seized his phone and more than $1,000 in cash on him at the time of the arrest, according to the affidavit.
Gregory faces preliminary charges of dealing a controlled substance, maintaining a common nuisance, possession of paraphernalia and minor consumption.
Whitney faces preliminary charges of maintaining a common nuisance, possession of both marijuana and paraphernalia and minor consumption.
Edwards, who was visiting the apartment, reportedly informed investigators she brought a small amount of marijuana, which was discovered in her purse, and a bong to the apartment.
She faces preliminary charges of visiting a common nuisance and possession of marijuana and paraphernalia.