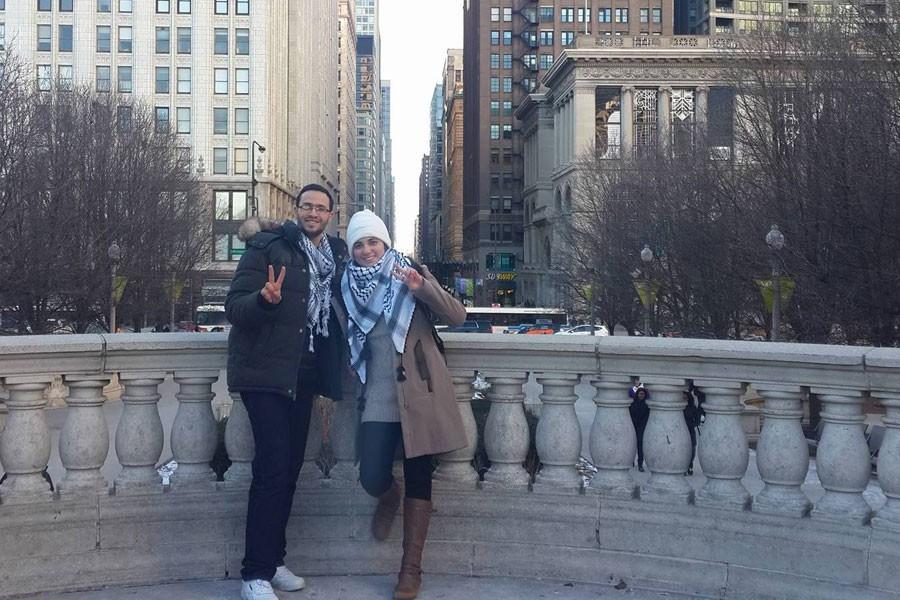 Photo courtesy of Deena Bragheith
The Shield interviewed three international students to see how they were acclimating to life at a U.S. university. In this weekly series, The Shield revisits Deena Bregheith, a junior English major from Palestine, to find out about her recent birthday and latest travels.
The Shield: Can you tell us a little bit about your birthday?
Bregheith: I turned 20, and I'm not excited about that. I never actually feel my age. I always feel older on the inside. I feel like I'm in my 30s. I really like to think things through and come up with conclusions and results and embrace the world. I always want my age to be small and for the number inside to be big.
The Shield: Have you always felt older or more mature? Is that something you have felt since you were young?
Bregheith: One of the main reasons I feel that way is because of the area I grew up in. The situation in Palestine makes you grow older faster. Also, I'm a female, I'm Arab, I'm Muslim, I'm Palestinian and from the moment I was born, I was born with these four challenges. Without even having to live for one day. So it's really hard to be all of these at 20.
You need to understand so much at a really young age… I always watched movies, like English movies and American movies, so when I saw how they portray Arab countries and Muslims… I was 13 or 14, and I was really upset at that point, and I was like, "Why?" I mean, it's been in my mind to go outside of Palestine and see the world, so I was like, "When I go outside and see other people, is that what they will think when they see me?" I only want to be friends with them.
The Shield: Have you experienced anything new lately?
Bregheith: I went to Nashville and Chicago since we last spoke. Nashville was great. It was really beautiful. I saw so many children and families going outside and having a good time, and people walking their dogs… it's like the America we see in movies and on TV. The first time I saw a child was in Nashville; imagine that. I don't see children in Evansville. Maybe because I'm always on campus. But I go off campus and I don't see them.
I've lived all my life among children. I have five younger siblings and the majority of my cousins are younger than me and we all live in the same area, so I always see children. When I came here, I wanted to see a child and play with them.
The Shield: What was Chicago like?
Bregheith: I love Chicago. It was really big and amazing. I've never seen such high buildings in my life. It was the coldest I have ever experienced in my life. It was five degrees there. When I grabbed my water from my bag, it froze and became slush. In my country, I would run around with a t-shirt on and I would never feel cold. Winter in Palestine is between 40 and 50 degrees.
I also saw my friend. He is in the same program with me in Chicago and he is from Gaza. So we met there because we can't actually meet in Palestine. I come from the West Bank. People from Gaza cannot get out of Gaza and I cannot go to Gaza, so it was the first and last time I saw him. It was such a sentimental moment. He is a great guy and I would love to see him again, but I don't know if I will.
The Shield: Why can't you get into Gaza?
Bregheith: We are not really free in the West Bank. But Gaza has it's own situation because the dominant political party is Hamas and the Israelis don't like Hamas. So, the citizens really struggle and suffer because of that. What can they do? It's not their fault. Collective punishment happens every day. At least we can go out of the West Bank using the bus. They can't. No one can go there. It's like a big prison. It's like the most densely populated area in the world. You can cover it with the tip of your finger on the map and it has more than two million people.