Tesla VP says engineering is art
Former Apple developer speaks to Romain College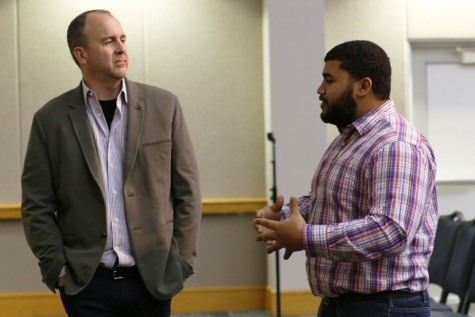 Doug Fields wants future engineers to love what they do.
Fields, the 2016 executive-in-residence for the Romain College of Business, shared his work experiences with students today in Carter Hall and named his most important principles in being an engineer.
Currently, Fields serves as the vice president for Tesla Motors. Previously, he was a technology developer for Apple, a medical procedure developer and a helicopter engineer.
Fields believes in always going the extra mile.
"Passion leads to overdoing it," he said during his presentation. "I encourage you all to overdo it in your careers."
Fields said he sees all of his work, which has ranged from Mac computers to aircrafts, as an opportunity to be creative.
"No matter what your work is, it is art," he said. "It is your work. It is your craft."
Fields said at Apple, there is such a constant demand for speed that time will never be enough for what they want to develop.
He related the business of technology to Darwin's theory of "survival of the fittest," but Fields said a worker needs to have both passion and a sense of humor.
"As an engineer, how much you care is your legacy, but it's also your legacy as just a human being," he said. "You have to have principles in finding your career. The most important thing is finding something you love."
Fields said he didn't enjoy school until he got to college.
"I picked the field of engineering that resonated the most with me," he said. "It's sort of a gut feeling. Intuition is a huge part of engineering, not just formulas."
Junior Jared Schmidt said he admired Fields' diversity in his career fields.
"He did all different things," the business management major said. "He didn't just stick with one."
Schmidt, who wants to own multiple businesses in his lifetime, said he appreciated Fields' comparison of the workforce to "survival of the fittest."
"We all have to adapt in work," Schmidt said. "I'll take what he said and use it."