Alyssa Smith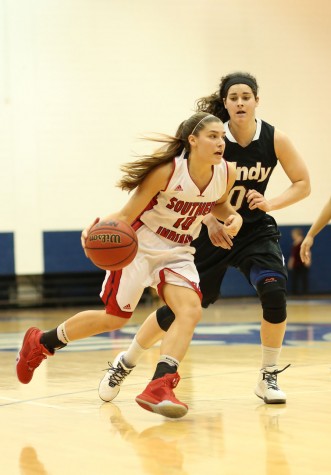 In the first half of the game against the University of Indianapolis the women's basketball team racked up ten of of its 15 turnovers.
"You cannot start a game against anybody in this league turning the ball over (10) times in 20 minutes," assistant coach Randa Dallas said. "From then on we were digging a hole."
The team never recovered from the first dig of the hole and lost 73-64, marking the seventh-straight loss for the team.
Four players ended the game in double figures for the Eagles, forward Kaydie Grooms (15), guard Tanner Marcum (14) and center Hannah Wascher (13).
Marcum said UIndy made the team pay for turning the ball over so many times and also executed six steals.
"We just gave it to them in the first half," the junior said. "We just gotta be smarter."
An area where the team did excel was rebounding.
Dallas said the team always wants to make sure to out rebound its opponent and she saw improvement in rebounds in the second half when players battled for the extra shot.
The Eagles out rebounded the Greyhounds 45-27 and 20 of the USI rebounds came on offense, the other 25 on defense.
"That shows some of our gut, that shows some of our grit," Dallas said. "We battled back in the second half on the boards to get us extra shots."
The final minutes of the game brought a push from the players to shrink the deficit to eight with three minutes to play.
"(It came) a little bit too little too late. We have a sense of urgency when our back against the wall," Dallas said. "We need to start with that sense of urgency from jump."
Dallas said it has been a long time since the team had what it needs to keep full intensity for an entire game.
The team has a quick turnaround, its next game is Saturday against St. Joseph's and Dallas said the group knows its a tough team.
"That grit, that fire, that confidence, that courage, that pride, we always seem to play with it," Dallas said, "but its not for a full forty minutes."