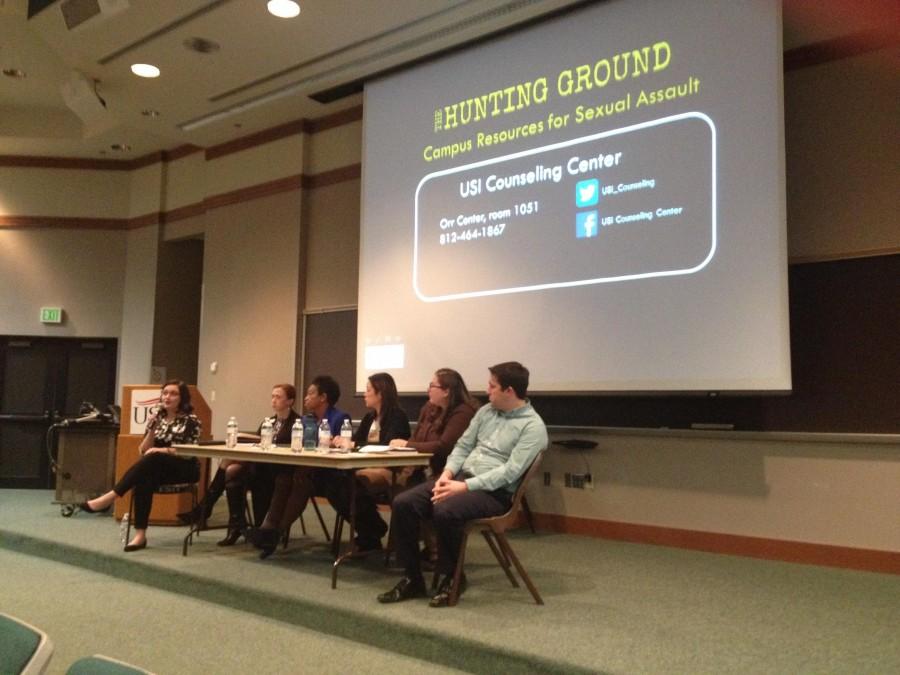 Photo by Armon Siadat
Laurie Berry believes more sexual assaults occurred in 2013 than the three reported in the 2014 Clery Report. "That is a very small number," she said.
The assistant dean of students' remarks on USI's sexual assault statistics came after a DOSO-sponsored screening of "The Hunting Ground" at 6 p.m. Tuesday in Mitchell Auditorium.
Following the screening, a discussion panel moderated by Stephanie Young, assistant professor of communication studies, reflected on the film and fielded questions from the audience.
Panelist Alix MacDonald, a victim support specialist with the Albion Fellows Bacon Center, said one reason USI's Clery Report numbers are so low over recent years isn't because the assaults aren't happening, but because they aren't being reported by students.
There are various reasons why victims won't report sexual assaults, she said, such as having a fear of the perpetrator, not wanting the stigma of becoming a victim, being overwhelmed by the system or a fear of victim blaming because of decisions they made before, during or after the assault — like whether they consumed drugs or alcohol.
Panelist Christy Baker, associate professor of social work, said the fear of victim blaming is often the reason crimes don't get reported.
Prior to the screening, audience members were given blank index cards so they could write down anonymous or sensitive questions for the panel they thought of during the film.
"We received a card that says, 'I was assaulted at this university. I went to see the dean of students at the time, who really, really, wanted to help me, but I was afraid to cause problems and start drama,'" Baker said. "And that is one of the many fears victims have of reporting – that it will cause fear, that it will have endless degrees of meetings, that you will be trouble to someone. You will never cause trouble to anyone. You are here as students that we would like to keep safe."
Another deterrent for reporting is a fear action won't be taken; something Berry said shouldn't worry students at USI.
"We're asking you to trust us," she said. "I know that is difficult to do because you just watched a film where person after person said to a T, 'I did not trust the system, I didn't like what happened to me and what I disliked even more was the way I was treated.'"
While the film provided examples of universities whose disciplinary actions for sexual assault range from the perpetrator doing 50 hours of community service at a rape crisis shelter to making a poster board displaying 10 ways to talk to a female, USI takes its disciplinary actions seriously, she said.
"I can tell you with confidence that I do not know of any case that's happened on this campus, in the time that I've been here, that someone has just been fined $25 or some of those ridiculous things (in the film)," Berry said.
DOSO's disciplinary sanctions range from being found not responsible or a warning, to suspension and expulsion.
"Sexual assault on campus falls on the side that's going to be one where if you're found responsible, you're going to be on that higher end," Berry said. "I'm not aware of anybody that just got a warning."
There is no statute of limitations when it comes to reporting assaults on campus.
"It can be something that happened yesterday, or today or several years out," Berry said. "Any kind of report that comes in – in that manner – we will follow up on and investigate."
Another difference between the schools portrayed in the film and the university is the lack of serial offenders, she said.
"I am not aware of instances on this campus where we're seeing multiple names come across multiple times," Berry said. "That's not to say it can't happen and that it doesn't happen. It's the ones that I'm not aware of and we know that some things aren't reported."
Despite having the number of sexual assaults reported on campus range from zero to three over the last five years, more students are starting to come forward.
"I can tell you this year reports are higher than what they've been in previous years," Berry said. "I believe some of that has to do with the fact that we've done training on Title IX."
Title IX training comes in several forms on campus, ranging from the required Campus Clarity course to programs sponsored by DOSO or the Albion Bacon Fellows Center.
The biggest thing the center advocates for is giving victims options when it comes to choosing whether or not to report, MacDonald said.
The options for campus policy outlined on the Public Safety website gives victims the choice to either report to DOSO, report directly to Public Safety, report anonymously or go to an emergency room, and it can call the university on the victim's behalf.
"What we really do encourage is to go to an emergency room and seek medical care," MacDonald said. "There are STDs that can be transmitted. You can get an exam just to make sure that everything is OK, and you can also receive a Plan B pill. You can do that anonymously, and you do not have to report it if you go to the emergency room to receive a rape kit."
The cost of receiving a rape kit is covered through the Sex Crimes Victims Act Fund, which is paid for by perpetrators who have been convicted in the state of Indiana, she said.
Stephanie Cunningham, senior staff psychologist and outreach/training coordinator, Melinda Roberts, associate professor of criminal justice and Ryan Hatfield, deputy prosecuting attorney for Vanderburgh County, also participated on the panel.
About 350 people attended two screenings of the film Tuesday.
"We would like this to be the start of a campus discussion," Berry said. "We're interested to hear what the student body says (on the subject)."
DOSO purchased a copy of the film and it is available for groups on campus to check out.