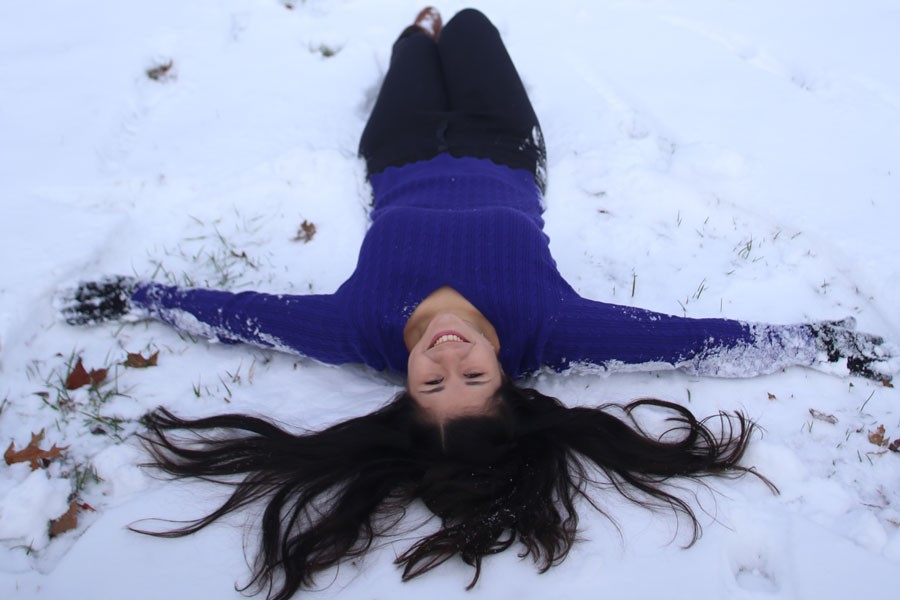 Alyssa Smith
The Shield interviewed three international students to see how they were acclimating to life at a U.S. university. In this weekly series, The Shield revisited with Sandrita Sanabria, a junior international studies major from Paraguay to see how she was doing a week after we spoke with her. This past week, she has enjoyed Arabian food, a snowstorm, went to Pump it Up and had a snowball fight.
The Shield: Can you tell us a little bit about your snow experience?
Sanabria: On the snow day, I was so happy.My roommates woke me up and they were like, "There are no classes today," and that was so cool. So I went back to sleep and then went out to lunch with some of my friends. We also went to the USI trail and found some friends there and they let us borrow their sled and that was amazing. It was going so fast. I love it. That was probably one of my favorite moments here.
The Shield: Have you done anything fun recently?
Sanabria: Sunday, I went to play at Pump It Up and they have bouncy houses. That was cool, and we bounced and played capture the flag. On Friday night, I had Arabian food for the first time and that was an amazing experience. We ate from a big bowl on the floor with one hand and that was so incredibly good.
The Shield: How are classes going so far?
Sanabria: I love comparative politics. We are learning about different types of governments and regimes. That's my favorite class so far and it's really interesting and my professor is so sweet and nice. However, I'm struggling with U.S. History.  Everything is new. There are things I've never heard about.   It's fascinating, but difficult.
The Shield: How do you stay in touch with your family?
Sanabria: I text my family every day. I'm trying to get better at English and my dad speaks  English, but we never do it back home. So now we are, and it's awkward, but we are working on that. I also try to post a picture everyday to say this is what's going on, on the other side of the hemisphere. It's like a journal. I'm loving it here. I love my family, but I feel at home here. I love USI more than anything. It's not too cold or too hot.
The Shield: How have your friends impacted your experience?
Sanabria: I have really good friends, I feel like that's why i'm happy here. It's not what I'm doing, it's who I'm spending time with. They've made this experience better. I am thankful for my friends.
The Shield: Do you have a favorite food place?
Sanabria: Fiesta Fuego is good. I've tried SubConnection and Burger King, too, and out of those, Fiesta Fuego is my favorite. My favorite place to eat at is a New Harmony restaurant. The food was really good and it's a really cute town. It's beautiful there. It looks like it's out of a movie.