Far from familiar: International insights
Students discuss acclimating to a new country, campus
The Shield interviewed three international students to see how they were acclimating to life at a U.S. university. In this weekly series, The Shield will follow Deena Bregheith, a junior English major from Palestine; Souleymane Mamane Illia, a junior English major from Niger, West Africa and Sandrita Sanabria, a junior international studies major from Paraguay throughout one semester at USI to show what it's like studying abroad when English is not a student's native tongue and they are far from the comforts of familiarity.
Palestine
Bregheith knew she wanted to travel abroad when she graduated high school.
She didn't tell anyone in the beginning, including her parents, that she was going to orientations until she applied for a travel scholarship. She told them she wanted to travel about a year before so they had time to adjust to it.
Bragheith's experience was extensive and involved many exams, she said. It took her more than 22 hours to get to Evansville. After dealing with about eight hours of Palestinian, Jordanian and Israeli checkpoints, which can sometimes take up to 12 hours, not to mention a nine hour time change, she arrived.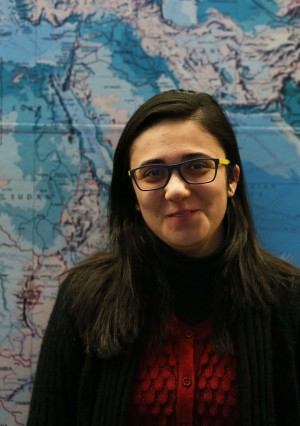 The Shield: Can you tell us about your first experience traveling here?
Bregheith: When I came here, it fascinated me how big this place is. I come from a university, but it's not that big. I mean USI is like as big as my town, so I get lost all the time. I get out of my room 30 minutes before the class because I know I will lose my way.
The Shield: What has your first experience been like?
Bregheith: I'm just going to say that I've never thought in my life that I am a family girl. All I need is to see my family for an hour or two, and if I don't, it's fine. But since I came here, I feel homesick and it's so weird. I never imagined I would get these feelings. But people here are so kind and so nice, they made my adjustment go much easier than I thought.
The Shield: What inspired you to study abroad?
Bregheith: I inspired myself. In my surroundings, there are not a lot of people who travel. I have always wanted to travel, and I have so many goals in mind. I wanted to be more independent, I wanted to try other cultures and I wanted my personality to develop. Life, you only live it once, so you just do anything and everything you can.
The Shield: Can you explain some of the differences in cultures and customs?
Bregheith: Well here, everything is about the individual. Individuality is a characteristic of the American people. Back home it's all about family —— not a small family, but a big family and the neighbors and everything, so that's a huge difference. I like how there's so much freedom in movement. I don't have that feeling in my home country. We have so many restrictions.
The Shield: Is there anything you want to add?
Bregheith: I am just looking forward to what the coming days have to offer. I am just trying to take things really slow and easy so I don't get crazy, because I tend to think really ahead and sometimes you shouldn't do that. You should live day by day until you figure it out.
Niger
Illia spent an entire day on a bus just so he could go to the capital of Niger, Niamey, to take the exam that would allow him to study abroad.
The English major said he had to wake up at 5:30 a.m. to arrive at the capital by 6 p.m. He said there was a time when he thought about giving up, but knew how much he wanted to travel and didn't want to give up on that.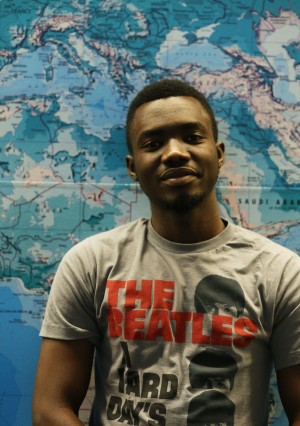 After traveling for two days to arrive in America, Illia is still trying to adjust to the seven-hour time difference and American customs. For him, leaving abroad was grueling because of the travel time.
The Shield: Can you tell me a little bit about your first experience here?
Illia: The first time I came here, I was amazed by everything because everything is different from my country. The way people are dressing, the way people are talking so fast, I was amazed by this, of course. It was just like a new world for me. It's just a big surprise even though I've traveled to many (African) countries.
The Shield: Can you tell me a little bit about the differences you saw?
Illia: In my country, you will see cows, you'll see someone with his cow going around the city, or a donkey, or a monkey, or a hyena, or some camels, you will see everything. When you're (age) 4 or 5, your parents will take you and put you on the back of a hyena so once you grow up you will not fear or be scared of anything… Also here, people are so individualistic. There you do (activities) with other people, among family and friends. Everything you do you have to share it among them.
The Shield: Why did you decide to study English?
Illia: English, now, is (my) first international language and my second language is French. So I want to be fluent in both just to continue my higher studies and education. In my country, people are neglecting English. It's difficult to see someone speak English there. Everyone is speaking either our local languages or French. I have to learn English because people are not interested in English. I have to learn it so I can teach other people.
The Shield: Are you enjoying your classes here?
Illia: Of course, but I'm facing some difficulties. So far the way people are speaking…  it's very fast. I can't get what the professor is saying, so maybe it's because it's the first week. Next week will be better. As time goes on everything will be better.
The Shield: Is there anything you would like to add?
Illia: Yeah, the first thing that scared me once I came here is the cold. It's very different. In my country, it's hot and dry and I'm not used to the rain and cold. The temperature in my country is between 15 and 45 degrees celsius. It's a little bit difficult to get used to this weather. What I loved when I came to the campus was the way students and staff and everyone has a smiling face. They greet you smiling. I really like this.
Paraguay
Sanabria had a 20-hour trip to America after learning about the scholarship that brought her to the university. She traveled to Asunción, Paraguay, to take her exams. But for her, the capital city wasn't far.
The worst part about the traveling experience was the layover, she said. She was extremely tired when she arrived, but with only a three-hour time change, she said she is lucky she can adjust easier.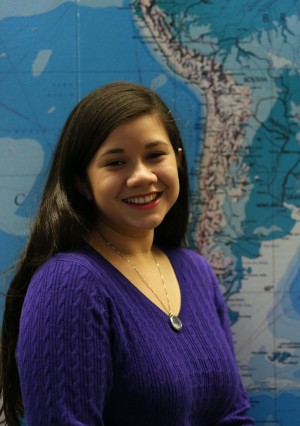 The Shield: What was your first experience like?
Sanabria: When I got here, I was really tired, so I didn't really care about the campus. The next day when I got out and saw it, it was so pretty. I think the thing that really impressed me is that people are so nice and so kind. They might not have the answer to your question, but they will find someone who does and that's really cool. People from my country would say, "I don't know" or say something that's not true.
The Shield: What has been difficult?
Sambria: Where I'm from, we don't use MyUSI or anything like that, so I think that is something I am struggling with. I like that the teachers are really available. They have their office hours, so you can just go and ask them whatever you need or whatever you're not understanding.
The Shield: What has your experience been like so far?
Sambria: It was a cultural shock. I knew this would happen, but it's still hard. I'm Latina, so it's like I just want to hug people and kiss people. So when I see people I'm like, "Oh my gosh. OK, you can't. You're not supposed to…"
  And then I like how everything has a place. Everything is well organized and I like that. I know if I come here, this is how it works and that's it. I don't have to be wandering around… they'll send me to like three different offices until I get to the right one, so everything is well organized.
The international office is helpful. For example, there are some days maybe they'll drive us to Wal-Mart and they don't even get paid for it. But they still drove us there and to the mall so we could get what we needed and that was cool.
The Shield: What has been your favorite experience so far?
Sandrita: It was last Saturday night and it was snowing and it was so cool. That was like out of this world. I loved that. I've never seen snow coming from the sky before. It was a gift from heaven for me, so that was really cool.