River City snapshot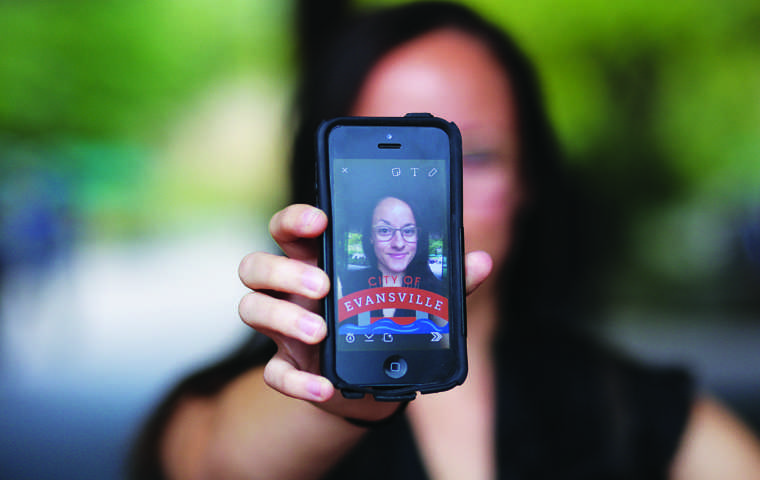 USI alumna Amanda Brinkman wanted to shine a light on the "up-and-coming" city of Evansville by creating a Snapchat geofilter.
Geofilters are special overlays for Snaps that can only be accessed in certain locations. Many major cities have filters, which show up when location settings are turned on.
Brinkman graduated in May with a major in graphic design and works as a marketing specialist for Sodexo and a freelance designer for the Campus Store. Brinkman said after traveling around and using other cities' filters, she was inspired to create one for Evansville.
"In Evansville we have nothing like that to utilize, and I always wanted that," Brinkman said. "Then one of my friends sent me a link with the instructions to (make the filter), so that's when I really just sat down and did it."
As for the design, Brinkman said she didn't think Evansville had a strong single element that represents its image.
"I tweeted out, 'What would you want to see in an Evansville filter?' and no one really had any good suggestions," Brinkman said. "So I just googled Evansville and the only thing anyone could think of was the riverfront."
The filter represents the sign at the riverfront that reads "City of Evansville," which sometimes isn't even visible, Brinkman said.
"When it floods you can't even see it," she said. "How beautiful that I brought something to the surface that really isn't visible."
Brinkman said there are directions to keep the filter in a set pixel size so it can fit on a phone and also how to set the margins and for its location.
"I had to specify the location I wanted it to be in, but I did that kind of quickly, and I missed some parts near Newburgh that I wish would've had it too," Brinkman said.
After waiting five days, Brinkman said she received an email saying that the filter would take a few hours for it to work, however, it took three days.
"I even had to ask the Snapchat people on Twitter, why isn't this working?" she said. "It was a long process just because I was so excited."
Brinkman said she saw her design pop up on snapchat during the Fall Festival.
"It gives me a sense of pride because I personally made it," Brinkman said. "But I also just think it's great that I gave people something to commemorate a moment within Evansville and we didn't have that before."
Brinkman said she does plan to make another geofilter for either Evansville or the university but hasn't decided on a design yet. However, she is taking suggestions.
Gracie Craft, a two-year Snapchat user, said she is happy to finally see a filter for Evansville.
"I think it is really neat that Evansville has been noticed enough to get a filter in general," the freshman theater major said. "I think it's really cool that all of my friends are able to put that on their Snapchat story."
Craft said with all the events happening in Evansville, it is a good thing for the city to have.
"I think it will get the city more noticed," Craft said, "which will be good."
About the Writer
Megan Thorne, Editor-in-chief
Senior Journalism and Art (emphasis in photography) double major with an Art History minor, I am always ready to take on a story and crave adventure.


"I...