Community remembers 'selfless' student
Tyler Barr was a go-getter.
He was a sophomore member of Lambda Chi Alpha, a volunteer firefighter, a son and a brother.
He fought fires, and family and friends are now left try to keep the flame of his legacy alive.
"I would tell him that I love him," said Tyler's half-sister, Madison Barr, "and that I'm proud of him."
Madison, 15, is a sophomore at Reitz High School and did not attend classes after the accident that took her half-brother's life Sept. 23.
"He was extremely protective of who he loved," Madison said. "He's my role model."
Tyler balanced fraternity life, volunteering, work and college courses, and Madison said she knew he would go on to accomplish his dreams.
"He had straight A's," Madison said. "He was taking so many hard classes and was going to be a doctor."
Madison said Tyler, who recently celebrated his 20th birthday, always cared for her and eased any nerves she had.
"He's the only one who's been with me through it all," she said. "My mom wasn't really there for me."
Madison said despite college and work occupying much of Tyler's schedule, he still made sure to spend quality time with her.
"About a year ago, I had just graduated from eighth grade, and he had just graduated from Reitz," she said, "and one weekend, we were so close. We talked about everything. We were not in the best situation when we were little."
Madison said her mother mistreated her and her half-brother and was heavily dependent on drugs and alcohol.
"It's helping me to talk to people (about my brother)," she said. "He was a really, really good kid."
Lauren Beck, 28, became a friend of the Barr family, helped with Tyler's grandfather and temporarily lived with them almost five years ago. Tyler was around 15.
"I ate with the family a lot," she said. "We would play softball and just throw the ball back and forth. Sometimes I would cook Tyler dinner and we would sit down and watch a movie. Whenever he was late or needed someone to take him to school, I was there."
Beck, who now lives in Spain, learned of the accident through Facebook.
"The family really helped me," she said. "I felt like I had a little brother. I wish he knew how much I really care about him."
Lambda Chi Alpha president and junior, Blake Simon said he bonded with Tyler during Tyler's freshman year.
"I loved talking to him," Simon said. "He told me a lot about the things he was involved in. He would help take care of his grandfather who was homebound and not in very good health."
He said the fraternity chapter is grateful to the university community and the surrounding Evansville area for support and prayers.
"Most of us are still a little bit in shock," Simon said. "The ones that grew up with him took it the hardest, for sure."
While the fraternity members share memories and support, Simon said Tyler would always want them to be happy.
"He truly left a lasting impact on this chapter," he said. "Everything we do will be with him in mind."
Junior Christian Miller set up a Go Fund Me page in an effort to help Tyler's family with finances.
"We're trying to do what we can," he said. "We're not sure how long we'll keep it up. The community has been extremely generous."
As of Tuesday afternoon, 137 donors contributed $7,310 to the page.
Friends, family and other supporters are also sharing their condolences on tylerbarr.com.
"Tyler always had positive vibes," Miller said. "There was never a moment where we saw him upset or mad."
Miller said the fraternity is putting all of its effort into commemorating Tyler's life.
"We should all learn to be a little more like him and his selflessness," he said. "We couldn't ask for a better brother."
About the Writer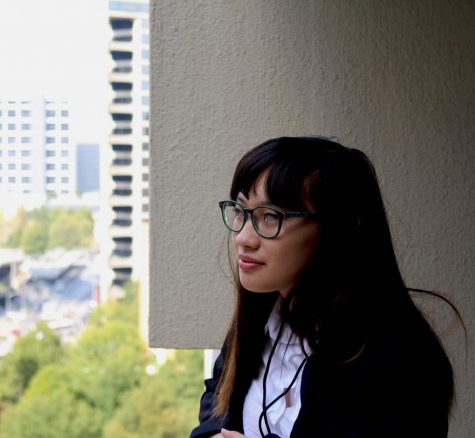 Gabi Wy, Editor-in-Chief
Gabi Wy is a junior majoring in journalism and criminal justice.