New engineering degrees under state consideration
Scott Gordon and Zane Mitchell, are currently in the process of getting two new degrees approved by the state for the engineering program: Bachelor of Science in Manufacturing Engineering and Bachelor of Science in Mechanical Engineering.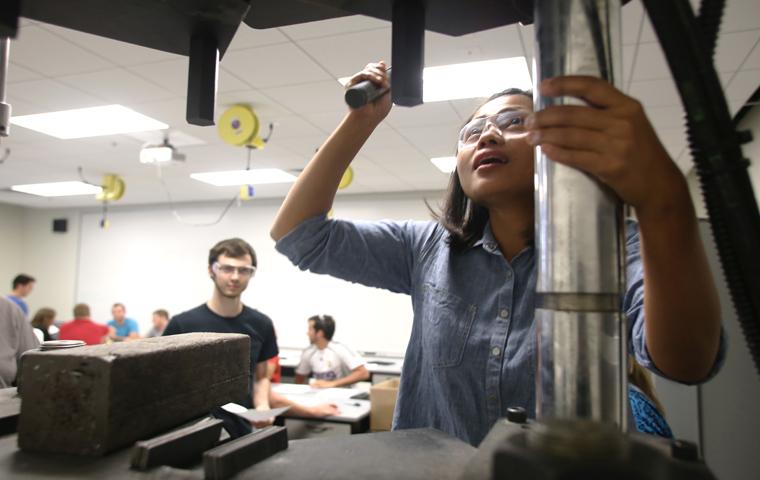 They have been "approved by all of the steps in the university but has to be approved by the commissioner of higher education," said Gordon, dean of Pott College of Science, Engineering and Education.
"They're going to be beneficial in a variety of ways," he said. "We're going to attract a lot of students because we hear from students on a regular basis that they want those in the engineering program, mechanical especially."
Gordon said the new degrees will benefit the region because of the heavy basis in manufacturing.
"A lot of those manufacturing industries hire mechanical engineers, and they will be very interested in manufacturing engineers," he said.  "Right now there is no other manufacturing program in the state of Indiana."
The degrees should help meet that demand, help drive the economy in those manufacturing areas and meet student needs.
"That's really key," Gordon said, "because these are things we hear students talking about wanting."
There are about 350 students in the Bachelors of Science Engineering Program. The program hopes to get 120 additional students, and 35 additional students are anticipated to be in the Mechanical Engineering Program, Gordon said
The program is "extremely challenging," he said. Approximately 128 credit hours are required.
Students will receive classes in everything from chemistry, physics, mathematics, calculus, differential equations and a plethora of engineering courses.
The students drawn to the program are usually those who have interest in science and technology.
"It is not a curriculum for those who aren't willing to study hard and be dedicated to graduating," Gordon said. "The demand for engineers is growing. Over the history of our program, we have not had any issues with students finding employment."
Students can find employment anywhere in the country. Engineering, firms, construction firms, businesses, the plastic industry, auto manufacturer and non-technology business related areas that need engineers to help solve technical problems.
There are 30 to 50 students "officially registered" for internships, said Mitchell, the chair of the engineering department.
Mitchell shared a few of the 50 companies students have been to for internships including Vectren Corporation, Berry Plastics, Mead Johnson, PCI Skanska, Toyota, Flanders Electric and GE Plastics.
He said the two degrees will possibly be approved by spring in order for students to be offered to students.
"We're spearheading an effort," Mitchell said, "to get them approved by the trustees."