Sodexo will replace to-go containers
Sodexo plans to help cut down on garbage with recyclable, plastic to-go containers.
This plan, known as the OZZI recycling system, should go into effect within two to three weeks and will eliminate all paper to-go boxes.
Kylie Burdette, an undecided freshman said she isn't completely happy with the current to-go boxes.
"I feel like the paper boxes could be (improved)," she said. "I've had some melt on me before. I would enjoy reusable boxes as long as they are sturdy and don't break often."
Freshman pre-nursing major Tiffany Sutton considered the benefits of a recyclable system not only for students, but also for workers.
"I hate that we have to continually ask for a new box," she said. "I feel like it would be easier for the people serving because they wouldn't have to constantly hand out boxes and refill the stacks."
Sodexo manager Chris Briggs said everyone on a meal plan gets one container for free, but customers without a plan must pay for a box.
After eating out of the box, students will return the boxes to one of two collecting machines on campus. Staff will remove the boxes from the machine and sanitize them.
Upon returning a box, the machine gives the student a token, entitling the student to another container.
The system will begin in The Loft. After Briggs can evaluate its success, the system can expand to retail dining on campus.
"There's a lot of programs that we do to be cautious about our environment," Briggs said. "Some are already in place, like the type of chemicals we use in our dish machine and how much water (and electricity) we use."
Briggs said universities and other food service operations across the country already utilize the OZZI system.
"(The system) has been around a few years," Briggs said, "so we're not on the front end of it, but not on the back end of it either."
He said the benefits of the system outweigh any potential issues.
"It's easier to eat out of these (boxes)," Briggs said. "The old ones are made to compost really easily, but people say it gets hot and starts getting moist, so they don't like eating out of them. These are going to be nice, kind of like thick Tupperware you have at home."
He said that cost shouldn't be an issue with the new boxes.
"Even with us purchasing (all of the boxes and machines) and making them part of the meal plan, we don't think it's going to add cost to the food service expenses," Briggs said. "Paper ones aren't cheap. You can probably get 10 paper ones for one (new box)."
He said the boxes and machines have already arrived on campus. Briggs is now awaiting technicians to install the machines.
Briggs foresees only one potential problem, which lies in the hands of students.
"The only issue I can see is the constant keeping up with (the box) and returning it," he said. "Hopefully students will work with us on that. I think (the system) will really make a difference."
Zackary Willem contributed to this story.
About the Contributor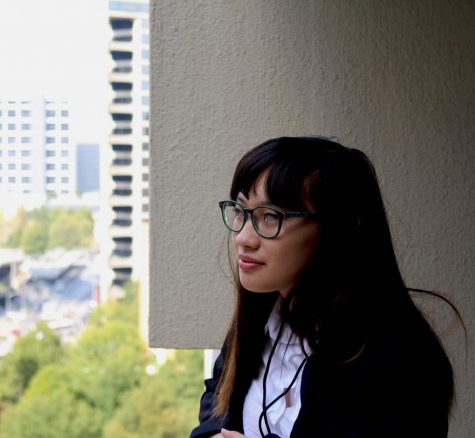 Gabi Wy, Editor-in-Chief
Gabi Wy is a junior majoring in journalism and criminal justice.