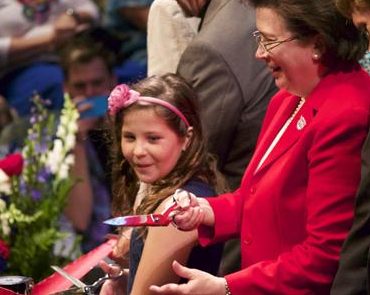 Isaac Williams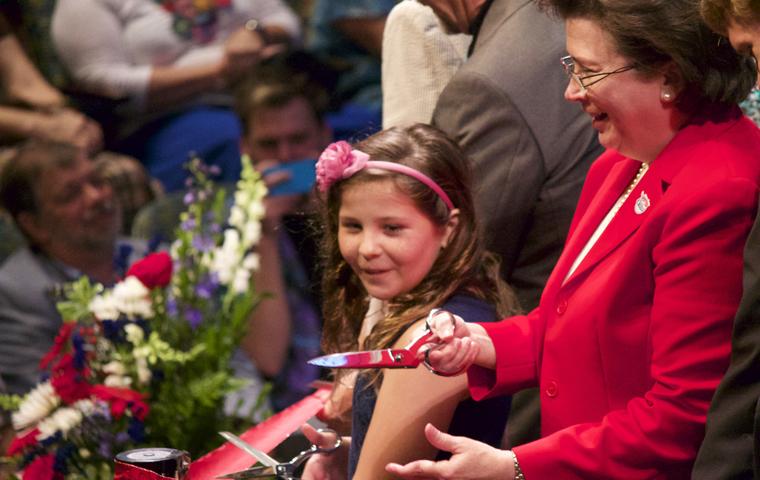 Blevins' dream was finally recognized Thursday with an official ribbon cutting ceremony for the new $17.2 million facility—just days before the university's 50th-anniversary celebration.
Before the official ceremony started, guests mingled and enjoyed cookies, punch and music by The Flatheads. As they entered the performance center, they were handed pamphlets by costumed students from USI Theatre.
The ceremony started with some of the university's theatre alumni singing "Seasons of Love" from the hit Broadway musical "Rent."  The song was performed on the new, never-before-played Steinberg Concert Grand Piano made especially for the Performance Center.
On the projector screen some former university theatre majors told the audience how the program helped jumpstart their successful careers in the theatre industry.
"(The center) is such a wonderful addition to our department and we're very blessed to have it," said junior theatre major Keely McGill.
President Linda Bennett, who opened and closed the ceremony, said it was a proud day.
"It's been a long time coming and this facility is just amazing," Bennett said. "It's going to make a tremendous difference to our performing arts program that's already getting national recognition. This facility is a game changer."
Performing Arts Chairman Elliot Wasserman also spoke at the ceremony.
"It puts students in a situation where their natural dynamic qualities will be amplified," Wasserman said. "It's just a tremendous place for creating theatre. We're so grateful to have it. "
Before the official ribbon cutting, LillyBea Ireland performed "Tomorrow" from the musical "Annie."  Ireland went on a national Broadway tour for the musical.
People such as Elliot Wasserman, Jeff Knight, chair of the Board of trustees, Ireland and SGA President Alexa Bueltel cut the ribbon, just to name a few. When the ribbon was finally cut, guests were given tours of the facility by theatre students.
The beauty of the center was certainly aesthetically pleasing to the guests.
The theatre has already shown three productions and has "Grapes of Wrath" and "Tartuffe" on the way.  There is no doubt it will be enjoyed by generations of Screaming Eagles to come.
"It needs to be said that this is one of the finest cities not just in the state, but in the Midwest," Wasserman said. "For a theatre of this size you'd have to go a long way to find anything like it. I wouldn't be surprised to see it appearing in architectural magazines.  Despite the contemporary aspects of it, it fits well within the grand traditions of theatre."