Freshman, Reds fan hops fence, avoids sentence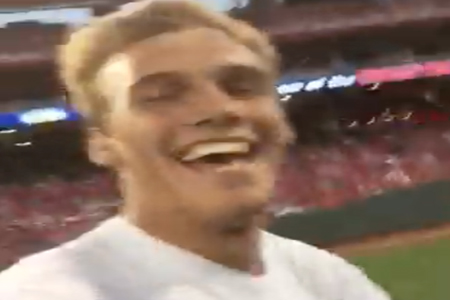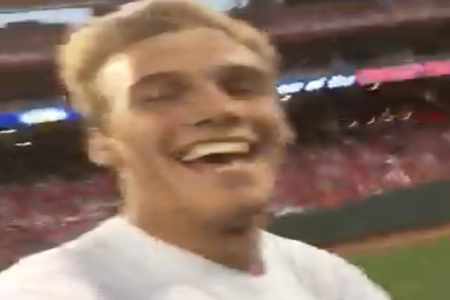 Incoming freshman, Justin Buchanan learned quickly what a little fame could bring after he ran across the field of a Cincinnati Reds game on July 22.
Justin Buchanan, an exercise science major, has been trending all the way from the United Kingdom to Australia after his consequences for losing a game of "What Are the Odds?" went viral.
"It took a lot of planning, I lost the bet about an hour before we got to Cincinnati and I immediately got on my phone and was looking up consequences and videos of people that did it and what they did and what I shouldn't do," Buchanan said.
As soon as he got in the park, Buchanan instantly started trying to formulate a plan around all the security guards until his friend mentioned a plan that seemed like it would work.
"My friend goes 'just hop over center field', as a joke, and I looked at him and was like 'that's not a bad idea.' Then I started watching the center field, and there were two security guards there, but I was like that guy is old and I'm pretty sure I can outrun both of them."
Buchanan thought once he got out of the stadium the police wouldn't come looking for him.
"I actually didn't think I would get caught as long as I got out," he said.
Not only did he think he wouldn't get caught, he also wasn't expecting the fame that followed.
"I figured it would be pretty big where I lived and maybe Indiana and obviously with kids I go to school with and people around my town. I didn't expect to go international, into the United Kingdom and Australia. I didn't expect that at all," Buchanan said.
Although Buchanan understands there will be consequences, he is glad he has the story to tell.
"I don't really regret it," he said. " It's going to be something I can always tell my family, grandkids and anybody. I can be like yeah, I was that guy."
Buchanan said he was actually scared for his life. He said his friends left him in the seventh inning to go to center field to film him, but lied and went to right field instead.
"I had to sit through a whole inning by myself, and I was like I'm going to go to the bathroom to get my nerves out. When I came back I was like, 'okay, it's the eighth inning,' and I had decided to go after the first out," said Buchanan.
That was when he started recording himself. He mentioned that even in the video you could see on his face that he is absolutely terrified.
The whole time Buchanan confessed that he really didn't want to go through with it and was thinking about how it was a horrible idea.
"I did not want to do this at all and the whole way down the stairs was the scariest thing I've ever done. Then as soon as I hit the grass, it was just instant joy, the biggest smile came on my face that I've ever had," Buchanan said.
Buchanan said he would never do it again.
He said "If you do it once and don't brag about it over social media, then you probably won't get in as much trouble, but if you do that specific thing again, then you are probably going to get a harder punishment."
"I think that doing it once is completely enough because not a lot of people do that in the first place."
According to the Hamilton County court system, Buchanan will have to enter into the diversion program, which allows the offender of criminal law to avoid criminal charges and a criminal record.
Buchanan also wants people to know that if they see him on campus and they think, "that's the kid…" then just come and ask him about it. He said it's not a big deal and he's happy to talk about it.
Ryan Hoffman, one of Buchanan's close friends said although he walked around the park to help his friend make a plan, he was expecting him to get caught one way or another.
"I was fully expecting him to get caught in the park and I was also expecting to watch the rest of the game, but I had to leave because he got out,' Hoffman said.
The whole time Hoffman felt it was an awful idea, but in the end let Buchanan make his own choice, regardless of how he felt.
"I wasn't scared for him at all really," Hoffman said.
Hoffman had no clue that what Buchanan did would lead to everything that happened since, but said the crowd reaction was actually funny.
"The people sitting where he first ran on the field were cheering right away because they saw him from the beginning," Hoffman said. "Then the crowd gradually cheered louder as they noticed he was in the field."
Buchanan said there are definite pros and cons of running across a baseball field during a game.
Pros:
A good story comes out of it.
Some of the fame is cool.
Cons:
The consequences in the aftermath.
The flip side of fame – the hate.
About the Writer
Megan Thorne, Editor-in-chief
Senior Journalism and Art (emphasis in photography) double major with an Art History minor, I am always ready to take on a story and crave adventure.


"I...