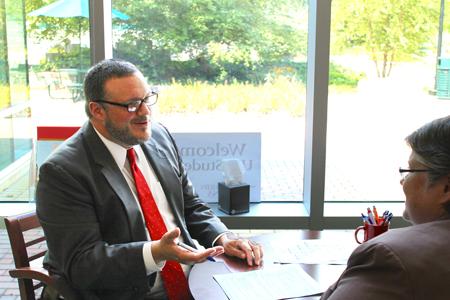 Isaac Williams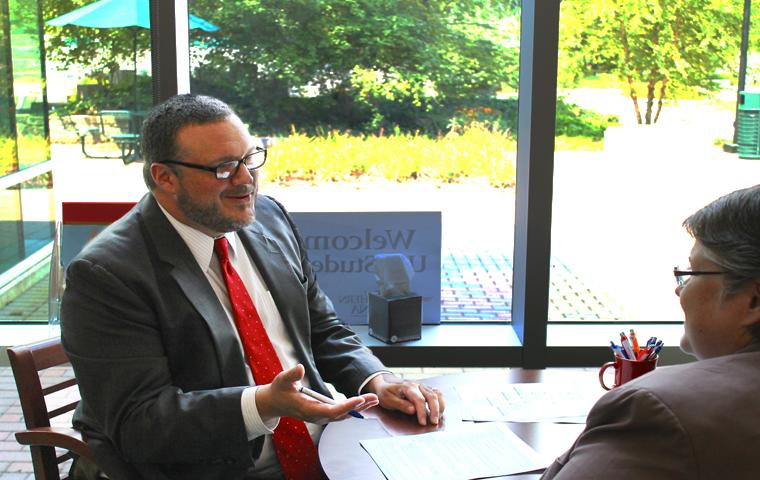 Bryan Rush describes himself as a "policy wonk."
"I enjoy policy and the legal side of this job," said the university's new dean of students. "If you open the news today, you'll read a lot about Title IX and legislation on sexual violence, and that's something we have to stay on top of — protecting our students  and making sure we're meeting the expectations of our government."
While former Dean of Students Angela Batista transitions into employment as associate vice-provost and dean of students at Oregon State University this summer, Rush is adjusting to his new position at USI. During his first week, Rush was immediately flooded with a whirlwind of meetings.
Rush attended Erskine College in South Carolina and pursued a history major. He then proceeded to prepare for what he thought was his cemented future.
"I always thought I was going to go to law school," he said. "I had an internship with an attorney, I was applying to law schools (and) I had taken the LSAT. I just felt that wasn't what I needed to do."
Instead of going to law school, Rush worked as an Erskine admissions counselor.
After serving as resident director, Rush decided to return to school to receive his masters in administration. From there, he worked at Virginia Tech in housing and residence life.
Rush earned his Ph. D in college student affairs and administration, also at the University of Georgia.
He views all of his jobs prior to his doctorate as constructive to his position today, Rush said.
"I think I've taken something from all of my employers … from all of the students that I've worked with and wouldn't be who I (am) today. We're a product of our experiences," he said.
Rush found his next job at a familiar campus, serving as Erskine's vice president for student services and dean of students.
Brad Christie, Erskine's senior vice president for academic affairs, watched Rush progress from an Erskine pupil to his hiring as dean of students.
"He's a great guy," Christie said. "He's a personality — a friendly, gregarious person. He's a hard worker but knows how to relax and enjoys that when he needs to."
Christie named Rush's accomplishments as dean of students as vital to the university's success.
"One of the main things he did was that he refocused the residence life staff. (He brought) new approaches to handling things like discipline in the residence halls or elsewhere on campus. For student services and the institution as a whole, he wrote or revised a number of our institutional policies," Christie said.
Erskine Coordinator for Campus Life Kaley Lindquist said good words concerning Rush.
"Rush is very personable," she said. "He cares deeply about students and the student experience. He both challenges and supports the people he works with as well as students."
Working at his alma mater undeniably meant a great deal to Rush, but he said that he "knew that he wanted a different experience" and to "continue to grow."
"My wife and I (knew that) when I took that job, I was looking at probably five years in that position and then looking for something else," he said. "We have a son who is going to be four in October, and we knew that we wanted to make a move to that next career step prior to school beginning for him to make it easier."
Rush said he looks forward to his new position.
"What I really love about (this position) is that it focuses on student advocacy. One of the things you'll hear me talk about a lot is that if you don't know where else to go for help, I want students to know that they can come to the dean of students office," he said. "We will do everything in our power to make sure you get the assistance you need and ensure that you're successful. That's big to me."
Rush strongly believes in the power of the faculty and atmosphere of a university.
"I keep hearing it said that we're in the business of transforming lives," he said. "We're going to do some great things for students."