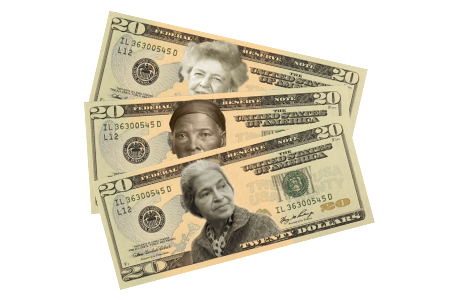 The twitter hashtag #WomenOn20s went viral last March when a new feminist movement showed its presence on various social media platforms.
The campaign aims "to honor the women who helped shape this country by making them visible in our everyday lives," said Barbara Ortiz Howard, founder of the movement.
The slogan: "A campaign to put a woman's face on the $20. Because isn't it time for gender equality on our money?" started with public voting polls offering a selection of more than 60 potential candidates that would replace the face of Andrew Jackson – the nation's seventh president – on the $20 bill.
The movement not only went viral on Twitter with more than 100,000 tweets sharing pictures of $20 bills and faces of the tweeters' favorite candidates of the movement, but it also went viral in news outlets like BBC Spanish, The Philadelphia Inquirer and The Washington Post to name a few.
The campaign has the support of many on social media and also from government officials like Sen. Jeanne Shaheen, who shared on Twitter a picture of her holding a $20 bill saying "Earlier today, I handed out these $20 bills on the Senate floor while recruiting support for #WomenOn20s"
Like Sen. Shaheen, Rep. Luis Gutierrez also supported the movement.
Changing the face of the $20 bill could be possible if President Barack Obama issues an executive order authorizing the change. Many council members, senators and representatives from all over the country have proposed bills and resolutions urging Obama to replace Jackson with a woman.
¨I asked my friends who we could put on (the bill) and I kept getting (names)," Ortiz Howard said. "The list kept growing. It was over a 100 women.¨ 
She said after the campaign started, they had almost 290,000 votes in less than three weeks on their website womenon20s.org, taking their 60 candidates down to 30, then eventually 15.
The campaign, now in its last round of voting, has been narrowed down to four familiar faces: Chief of Cherokee Nation and first elected female Chief of a Native Nation Wilma Mankiller; Rosa Parks, who's saluted as the "first lady of civil rights;" Leader in the post-war women's movement and former slave Harriet Tubman; and the woman who redefined the role of the FLOTUS Eleanor Roosevelt.
Ortiz Howard said there is no perfect way of picking the one who will be proposed to be on the $20 bill.
People of all ages have shown support for the movement.
At USI, many students voiced their thoughts on the movement.
"I don't see why not?" said Nick Mathis, a senior engineering major.
"I wouldn't change it because I have traditional values," business administration major Cory Bowlin said.
"Women have been discriminated against for so long," said Kaitlyn Oliver, an exercise science major who said she would like to see Parks on the $20 bill. "We (women) need to feel more empowered."
Pre-social work major Kiley Jones, who also chose Parks, said women should be on U.S. currency because that would help support equal rights.
Radio and television major Hunter Euler said he wouldn't mind seeing a woman's face grace the $20 bill.
"I don't see why we would change it now," Euler said. "Might as well create a new bill."
"I believe women should be on at least some currency," said Briana Maddox, a theatre major who chose Tubman. "It's supposed to be an equal society and not including women on something that's in our everyday lives is offensive to women."
Theatre major Cody Parker also chose Tubman. He said he is not much for alteration, but "it is always good to change some things up."
To vote, visit womenon20s.org.