Dogs, dishes to relieve final's week anxiety
Hang on for a minute...we're trying to find some more stories you might like.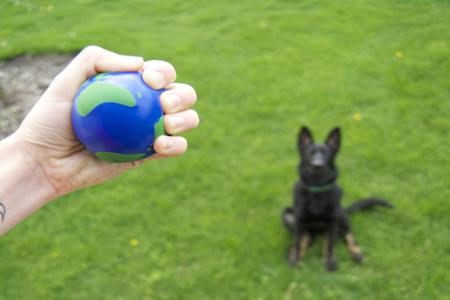 Megan Jean has post traumatic stress disorder, which sometimes causes her to suffer night terrors.
One night during an episode, Jean's mother heard her daughter scream and came bolting into her room, Jean said, tripping over the entryway's fluffy guardian.
Maisy, a standard poodle whose name is short for Amazing Grace, rose quickly, ready to attack.
That's when Jean realized her dog was acting as a barrier between its owner and potential threats. Maisy provided Jean a sense of protection, something she said she now craves terribly.
The Recreation, Fitness and Wellness Center, Rice Library, Counseling Center and Student Support Services have banded together to host Paw N' Play, which provides students, staff and faculty the opportunity to engage with Pet Therapy Dogs during finals week to reduce stress and anxiety.
Michelle Gifford, assistant program director of Student Wellness at the RFWC, said she first had the idea to bring dogs onto campus after she saw the concept implemented at other universities.
"Therapy pet usage has really grown in the past among colleges," Gifford said. "I have a personal link to it just because I'm a huge dog lover."
Students can spend time petting, cuddling or playing fetch with the therapy dogs from 11 a.m. to 1 p.m. Monday and Wednesday, and from 5-7 p.m. Tuesday.
Other resources and tools will be available on stress management.
"We're looking at homesickness," Gifford said. "We have an international population here and we have students who have moved away from home, where home is an hour (away) or cross country."
According to the university's MAP Works 2014 survey, 39.4 percent of 639 students reported that test anxiety was their top issue in 2013, and out of a sample size of 532 students, 32.8 percent noted that homesickness or separation was another top issue.
Nationally, results from the Spring 2014 ACHA-NCHA II, a national research survey organized by the American College Health Association to assist college health service providers, show that 30.3 percent reported stress, 21.8 percent reported anxiety and 21 percent reported that sleep difficulties affected their individual academic performance.
The report states that 40.9 percent of male and 50.7 percent of female students found academics traumatic or difficult to handle.
Although is it not her area of expertise, Stephanie Cunningham, staff psychologist at the Counseling Center, said animal/human interaction is a legitimate subfield within psychology.
"There is research galore on how interacting with animals…effects our stress levels and our anxiety levels," Cunningham said. "They help people feel subjectively less anxious and they lower people's cortisol levels and blood pressure."
She said even brief interactions with dogs can produce measurable results.
"I think it is probably one of the best things that folks can do for themselves as a quick and easy way to reduce end of semester stress," she said. But that only applies to "animal people."
Cunningham said she and Gifford wanted to bring animals to campus for some time because many students express a longing for their animals back home.
"Folks residing in housing talk a lot about how difficult it is to be away from their animals – to not have that tactile experience and the comfort that comes from being with an animal you care about," she said.
Sophomore elementary education major Molly Swihart said she likes dogs, but prefers a more destructive form of tension release.
"For me, I know throwing and breaking things works to relieve stress," Swihart said.
Students who find cracking china as an alternative to puppy love can attend Smashing Barriers to Education from 11 a.m. to 1 p.m. Tuesday on the Quad.
The event, organized by Swihart, allows students to write what's irking their anxieties on a plate and enter a booth where they can chuck it at a wall, shattering their stresses.
A plate costs $1 or three for $2, and all proceeds will go to Circle of Sisterhood, a Panhellenic National Philanthropy dedicated to raising awareness about human trafficking and women education barriers.
"(The glass) will either be up-cycled or recycled," Swihart said. "It won't go to waste."
Jean, a junior psychology major, is the youngest of seven and when her mother retired to Florida after her daughter's high school graduation, she took Maisy, and Jean's Yorkshire terrier Chloe, with her.
Prior to college, Jean said she had three close friends and they were "four peas in a pod." However, her social anxiety disorder makes it difficult to find pals of the same caliber, which has made living on campus "terrible," she said.
"It's really difficult because sometimes you just have a crappy day, or you have a really great day and you don't have those people in your life that just get you and honestly care about you," she said. "You don't have anyone to share good news with, or go home and talk to or cuddle up with."
Jean now only sees her mom and her dogs during summer and Christmas breaks.
"I think it's cruddy that college campuses don't allow students to more readily have animals," she said. "I wish that there were dog-OK apartment buildings or dog-OK dorm rooms, because there are more than a sufficient amount of people who do not have good ways of coping with stress."
She said taking away that animal interaction forces them to go out of their comfort zone.
"(Paws N' Play) will have a good impact on people because it gives them the ability to just connect with something that isn't stress inducing," Jean said. "Because people are stress-inducing."