Testers APPreciate convenience: USI Mobile quick, easy, but needs more
Hang on for a minute...we're trying to find some more stories you might like.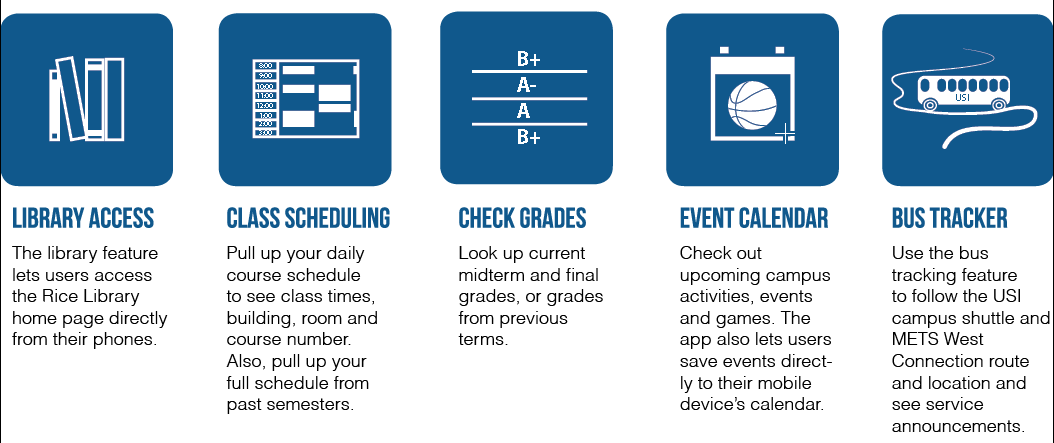 As Alexa Bueltel scrolled through the new USI app's features, she shouted with excitement when she discovered a feature that allows her to quickly add upcoming campus events directly to her mobile device's calendar.
USI Mobile is now available for free download on iPhone and Android phones.
Part of USI's Strategic Plan, which was implemented in 2012, focused on the creation of a new cell phone application.
The point of the plan was to convert USI into a 24/7 campus, for which a committee was formed.
The new app was one of the initiatives set forth as a result of those efforts.
Student Government Association members got the chance to test out the application prior to its release to help Information Technology work out any kinks.
Bueltel, SGA's assistant vice president for external relations, said she loves that she can use USI Mobile to see what is going on at campus.
"I thought it was a good starter app for USI because I know they have an app from a few years ago that I downloaded, but it wasn't very useful," Bueltel said.
She said she downloaded the original app as a freshman and wasn't in its system, but her graduated brother was.
She said the app is easy and quick to use.
On the left side of the application's home screen is a sidebar that opens with a tap revealing a list of options to select, from such as a department phone list, campus news, bus tracking and the USI fight song.
Bueltel said she likes being able to see her class schedule and check her grades, but she thinks some alterations could be made.
"One thing that I would like for it to add, I don't know if this would be available to do, but when you are going to sign up for fall classes, having a list of all the classes available," she said. "And the times and teachers offered for those classes."
SGA Chief Financial Officer Aaron McCullough said he liked the fact that the app doesn't time out on him.
"Sometimes I will be on the computer for eight hours and it times out on me every 15 minutes," McCullough said. "But with the app, I've been logged in since a week ago and it still hasn't timed out on me."
McCullough said he thinks that IT could move more aspects of the usi.edu website to the mobile app.
"If I could go check my email," he said. "That is one big problem I have at this school is with people checking their email."
He said oftentimes teachers will send an email out to students about a cancelled class or an upcoming quiz, and the students don't see them in time.
McCullough said he thinks that if there was an email feature, people might check it more frequently.
"I am an employee here as well as a graduate, so I think it would be cool to check your pay stub summary as well," McCullough said.
He said it would also be nice to see a bill summary on the app.
"I think that's going to make organizations actually start to use the university calendar for their events because now student have easy access to it," he said.
There is also a sports section, however, the campus events menu also lists sporting events, which McCullough said he wished would be fixed.
"If they could maybe divide that calendar up into an academic events calendar, an organization events calendar," he said. "And then a sports calendar."
Executive Director of Information Technology Richard Toeniskoetter, who developed the application, said they used a template from the Ellucian application, which provides USI's banner system, a comprehensive computer information system that contains information about courses, students, faculty, staff and alumni.
"Over time, you will be able to enroll in your courses through the app," Toenisketter said.
The app also features a campus map, library access, a link to the USI Facebook page and access to The Shield's website usishield.com.
"I just think, overall, they've done a good job," McCullough said. "I think it's simple and clean."