Graduate fights rare disease, overcomes academic probation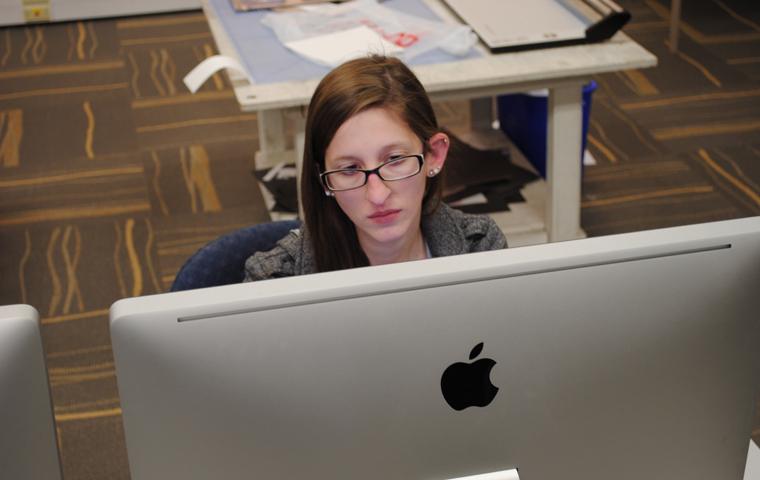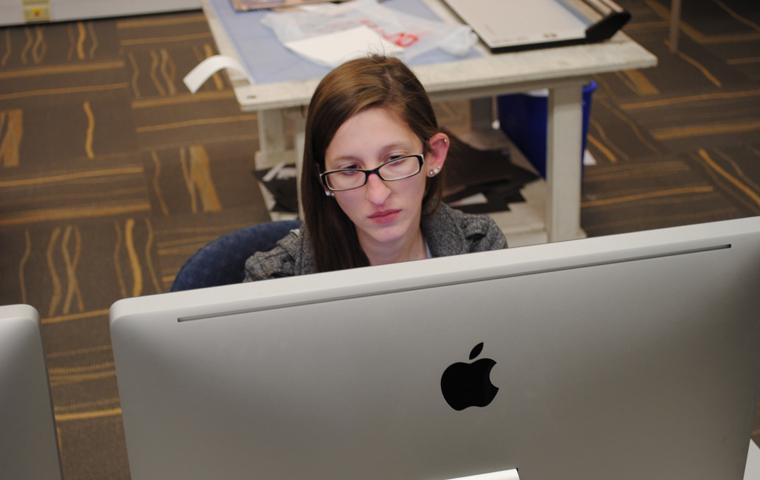 Lauren Humbert was in her sophomore year at USI when doctors diagnosed her with a rare form of muscular dystrophy that affects her lungs and upper-torso.
"Since I am the only one with this form, they don't really know the name for it," Humbert said.
Since she first stepped foot on USI's campus as an official college student in 2009, a mountain of challenges arose on her path to higher learning, from undergoing a hysterectomy to the loss of her financial aid to being placed on academic dismal.
The art major will cross the finish line Saturday alongside 389 other USI graduates at the 2014 Fall Commencement Ceremony—the highest fall attendance in USI's history.
Muscular dystrophy is a group of diseases that cause progressive weakness and loss of muscle mass.
During a 4th grade school health examination, Humbert discovered she has scoliosis and a few years later, at an appointment with an orthopedic doctor, the scoliosis had progressed and she was placed in a back brace for a year-and-a-half.
"It was pretty much this big plastic hunk thing that Velcros around your entire torso," she said.
At age 15, when she was nearly done growing, she was sent to Riley's Hospital for Children, where her case wasn't "too severe," she said the doctor told her.
"Then I got sick my freshmen/sophomore year of high school and I just had a really bad cough for three months," she said. "I could never get over it so that's when they were like, 'Something's wrong.'"
After a pulmonary function test, doctors found she had 30 percent lung capacity. They decided to go through with the spinal fusion surgery in 2008, during which they screwed metal rods into her spinal chord.
The doctors assured her the process would go smoothly, she said.
"You're going to be screwing things to my spine. People get paralyzed. How OK am I really going to be?" she said she thought to herself.
She didn't wake up until six hours after her surgery.
Doctors soon realized something more severe was wrong, she said.
Humbert said she often would get terrible migraines because too much carbon monoxide gets into her brain.
"They gave me medicines to cope with so many of the symptoms that I deal with," she said. "Little things to make day-to-day life easier."
Humbert's unnamed form of muscular dystrophy is a sub category of nemaline myopathy, also called rod body disease.
According to The Muscular Dystrophy Association, nemaline myopathy causes weakness and poor tone in the muscles of the face, neck and upper limbs, and often affects the respiratory muscles.
In muscular dystrophy, generally either the original or a copy of the gene is mutated, but in Humbert's case, both genes have mutated, which she said doctors told her creates a hole.
"I have to get a flu shot every year because I am really susceptible to getting sick because it gets in my lungs and takes me weeks to get over," she said.
Humbert found the news of her condition as somewhat of a relief, she said.
"I had been dealing with trouble breathing and couldn't do any over exertion, couldn't walk far distances and they could never really tell me why," she said. "They couldn't give me an exact reason, so when they said, 'You have muscular dystrophy,' it was something tangible. I knew what was wrong. They could finally start doing things to help me."
She said she was glad doctors could start preventative measures, but the disease was a much more dire outcome than she had hoped for.
In September 2014, Humbert missed a few weeks of classes to have a hysterectomy.
"They take out your uterus so you can't have kids," she said. "It's not safe for me to, so they took out the risk altogether."
Gestation could have meant Humbert choosing between her death and the termination of the pregnancy; a decision she said she would never want to make.
She was upset at first at the thought of not bearing children, but after contemplating other options like surrogacy or adoption, she said she felt better.
"I really got to thinking about it and what are the chances of me passing this on to one of my kids?" she said.
Humbert has already applied for Medicaid, social security and disability benefits.
"I am only 24," she said. "I will probably always be on (disability) because I don't think I will ever get better. Unless they somehow find a cure."
Her symptoms have increased since the diagnosis, she said.
"My test results don't show it, but I can feel myself (get worse) every day," she said. "I get tired easily. I don't have energy."
Humbert has had to adjust to balancing her disease with being a full time student and working a part time job as a log administrator at Walt's Drive-A-Way.
"I can't ever work a full time job, so I always have to work a part time job," she said.
She is not required to work, but said she chooses to work part time because she can't imagine herself sitting at home all day.
Humbert began college as a graphic design major, but didn't enjoy it , so she switched to studio art classes and found a passion for digital photography.
"My dream job would probably be something like, it sounds really funny, but working for National Geographic and going on safaris and photographing animals," she said. "I've always wanted to travel to Spain and Italy and all of these places that I will probably never be able to travel to."
Several faculty and staff have made Humbert's experience at USI a positive one, she said.
"A lot of the teachers were really accommodating," she said. "The teachers here do a really god job of supplying you with the things you need to learn. You just have to have the will to learn."
Her adviser, Associate Professor of Art Robert Millard-Mendez, has helped her overcome many adversities over her years at USI, she said.
Two summers ago, Humbert, who thought she had a medical exemption from P.E. courses, was told to take the 376 level nutrition class online to supplement her 100-level P.E. course.
"It was all nutrition and I had no idea what I was learning," she said. "It dropped my GPA so low that they put me on academic dismissal and I lost my financial aid and my (vocational rehabilitation)."
Millard-Mendez helped her appeal three separate times the following semester to get a reimbursement for the class, her financial aid reinstated and the failing grade removed from her transcript.
"You have to write a letter explaining the situation and why you think you should get the appeal approved and then have any documentation," she said.
Humbert won all three appeals, she said, but lost $2,500 that semester due to lack of financial aid and was never reimbursed.
Liberal Arts Lecturer Andrea Hoelschler also had an influence on Humbert.
"She's (Hoelschler) just one of those teachers that goes above and beyond," Humbert said.
She said her overall experience at USI was a good one.
"I'm glad that I am graduating. I am glad that I am done," she said. "I am ready to do something else and I'm proud."
The Romain College of Business and Pott College of Science, Engineering and Education Ceremony is scheduled to start at 10 a.m. Saturday, followed by the College of Liberal Arts, College of Nursing and Health Professions and Outreach and Engagement Ceremony at 1 p.m. Both ceremonies will be held in the Physical Activities Center.
Doors will open to guests one hour prior to each ceremony.
Of the 581 students eligible to attend, 97 will graduate with academic honors; seven summa cum laude, 37 magna cum laude and 53 cum laude.
"About 67 percent of the students eligible to graduate are participating in commencement, which is a really good number of students," said Cynthia "Cindy" Brinker, vice president for university and government relations.
In 2013, about 60 percent participated in fall commencement, Brinker said.
Receptions for each of the graduating classes will be held after the ceremonies in University Center East.
Associate Professor of Physics Kent Scheller will be the speaker at both events. The Grand Marshal's are Chemistry Department Chair Jeffery Seyler during the morning ceremony, and Assistant Dean of the College of Nursing and Health Professions Deborah Wolf during the afternoon ceremony.
"This year, the new Archie is going to greet the guests coming on campus," Brinker said. "He might even be decked in a graduation gown."
Archie will also be available for pictures during the receptions.
For those who aren't able to make it, the ceremonies will be live-streamed online at www.usi.edu/commencement.
People can tweet and share photos, which will appear on the projector prior to each ceremony, using #USIGrad.