Valley Vibrations: Malian musician comes to Evansville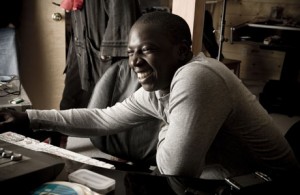 Vieux Farka Touré, who performed at the opening concert for the FIFA World Cup in Africa in 2010, will bust out his guitar at the 2014 Music on the Hill concert Saturday at Wesselman Woods Nature Center in Evansville.
The critically acclaimed, Malian musician grew up with music all around him.
"Just walking around Niafunke, there are always people hanging out playing music," Touré said. "In Mali, it is a very central part of life. I've always loved music since I was a very small child."
Born in Niafunké, Mali in 1981, Touré is the son of Grammy-winning Malian musician Ali Farka Touré, who died in 2006.
"Of course, my father, Ali Farka Touré, is my biggest influence," he said. "My second father, Toumani Diabate, the great kora player, is also a very big influence on me."
Touré released his album, Mon Pays, which lends homage to his Malian homeland, in 2013 to rave reviews from critics. In Niafunke, inspirational sounds seemed to surround Touré.
"You hear all the time the Islamic prayers. You hear guitar and calabash and the traditional violin," he said. "You hear people working on the river. You hear donkeys and chickens moving around. It is that kind of place; very peaceful."
Touré's "cousin" Afel Bocoum and "aunt" Khaira Arby are other inspirations to his music, he said, as well as many other great musicians from Mali and West Africa. Toure also found inspiration in Western pop-culture.
"I love Jimi Hendrix, James Brown, even Phil Collins," he said. "I love reggae and hip-hop and funk and jazz."
Beside his father, Touré is the only musician in his family.
"I think it's just in my blood," he said.
Touré's career has taken him all over the world to countries like Australia, Canada, India and South Africa.
Music on the Hill will also feature local artists and Christylez Bacon, a Grammy-nominated hip-hop artist and multi-instrumentalist from Washington, DC.
Bacon plays the West African djembe drum, acoustic guitar and the human beat-box–oral percussion. His music focuses on cultural acceptance and unification through music and has collaborated with artists from various cultural backgrounds, such as the Hindustani & Carnatic music of India, the contemporary Arabic music of Egypt and the music of Brazil.
"It is our goal, in bringing both of these amazing performers to Evansville, that we will help grow MOTH as one of the premier music festivals in the region," said John Foster, executive director of Wesselman Nature Society, "but also enrich the lives of school children in Evansville."
Touré and Bacon will perform at local schools Friday.
"I have heard that this show will be unique for me, a new experience," Touré said. "For me, that is the best, to do different kinds of shows for different kinds of audiences all the time. It keeps me inspired in my music."
The musicians will play from noon to 9 p.m. by the pond at Wesselman Woods Nature Preserve.
"The hill next to the pond creates a natural amphitheater-like atmosphere," Foster said.
Wristbands, which cost $7.50 per person, children under 12 can enter free, allow guests to come and go as they please throughout the day.
"If there is a band playing that (attendees) don't like, they can walk some of the trails that surround the pond," Foster said.
Vendors such as Pizza Revolution and Granola Jar and will provide food, but guests are free to bring their own picnic. Turonis will host a beer garden. There will also be crafters and children's activities. Last year, the event attracted 900 and Foster anticipates more than 1,500 guests in 2014.
Local performers include Humming House, the Honeyvines, Traveling Broke and Out of Gas, Calabash and Logan Dryer Touré said he hopes people can dance and have a great time together.
"I want people to feel happy and also to see that African music and American music are the same," he said. "We are brothers from the same family."