Valley Vibrations: Go Nuclear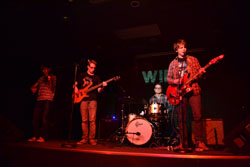 Hang on for a minute...we're trying to find some more stories you might like.
Go Nuclear is a fresh, alternative country group with splashes of punk with only a handful of gigs under its belts.
Presently consisting of four members, The Shield sat down with three of the members just before they preformed at Wired Monday night.
If anyone would like to watch Go Nuclear play live,  they can visit usishield.com to see additional Valley Vibrations content. 
https://www.youtube.com/watch?v=xqduCFeO-G0&feature=youtu.beNigel Meyer grew up around a family of guitar strummers but managed to land a part-time spot playing bass for Go Nuclear.
The creative writing major at USI said he wanted to steer clear of the family niche and started playing drums, but he wound up as a bass player as he moved through different bands.
"I always had that punk background, but then I got more into classic rock, and then more into improvisation and jam rock," he said.
Meyer's latest endeavor with Go Nuclear has added another genre into his portfolio.
"(Go Nuclear)'s like a country kind of sound, it's got that kind of twang. It's a lot more introspective, and not the typical country you would hear on the radio," he said. "It's more rock-a-billy-esque, kind of folky."
Jake Jones also tackled numerous genres moving from band to band since he was 16 (now 24).
"I have never been in a band like this before at all," Jones said. "I've played in a bar band that was a country band, but it was strictly covers of Luke Bryan and stuff like that. I wasn't like anything we're dong now. (Go Nuclear) has a Johnny Cash-feel to some of the songs."
Jones, the drummer, said the quiet drum set he now plays is far from the pop punk he is used to.
He said he first became interested the idea of forming a band after seeing the movie "School of Rock."
"Me and a few friends went and saw the movie. …And we were like, 'we've got to get instruments for Christmas,'" he said. "And we did and we started a band. And it was awful."
Jones and Meyer were both interested in joined front man Jake Tapely in his first ever band endeavor by his different musical style. Also attracted to Tapley's sound were fourth member Tyler Vest, the band's violist and a musical therapy major at UE.
Tapley sings and plays guitar for Go Nuclear, and is the main songwriter.
Much of Tapley's inspiration comes from The Old97's and Bryan Adams.
"The songs, I tried to make them universal and relatable to-young people trying to find their passion and figure out what they're doing with their life," Tapley said. "That's what most (of) the songs center around."
Tapley, and a friend who has been around the Evansville music scene much longer, started the band.
"I am still new to the music scene because I have been playing for not that many years," he said.
He said he attributes a lot of the band's start to his friend, who is no longer associated with Go Nuclear.
Tapley formerly preformed solo.
"Now I have other people around me who are helping shape my artistic expression," he said. "Its definityl changed since the band started."
Go Nuclear has played Wired, PG and Penny Lane in Evansville, recently recorded its first two songs and plans to drop an album in Fall 2014.
Jake Jones said he encourages people to come out and support Evansville's local music scene because he thinks its existence is in jeopardy.
"Since I have been playing music, it has definitely gone downhill," Jones said. "There are still local bands, and there are still a lot of people out there, kids you know that want to play music, and I think people should support that."