Kentucky film festival welcomes "Robocop"
Hang on for a minute...we're trying to find some more stories you might like.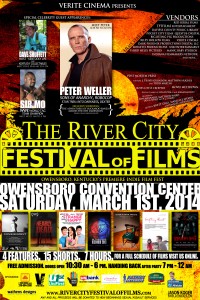 Film addicts get the chance to satisfy their cinematic sweet tooth in Owensboro, Ky., on March 1 at "The River City Festival of Films."
The festival will run local and regional films at the Owensboro Convention Center all day starting at 10:30 a.m.
Owensboro native PJ Starks started his career as a local filmmaker with the satirical horror flick, "Hallow's Eve: Slaughter on Second Street."
Starks went on to make the award-winning psychological short film, "A Mind Beside Itself," which played at Times Square in New York City and across the country.
"I don't have any desire to run out to Hollywood or New York and try to be the next Speilberg or anything," Starks said. "I want to do what I am doing but just do it here (Owensboro)."
While submitting his own creations to various film festivals, Starks said he noticed many towns smaller than Owensboro were hosting festivals.
"I kept thinking to myself 'Why doesn't Owensboro have a film festival because there is so much local and regional talent out here," he said.
Now in its third year, "The River City Festival of Films" has proven successful.
"A lot of Indiana talent is going to be there. Local directors, writers, producers and actors – quite a few of their films are going to be shown at the festival as well," he said. "I am facilitating the whole entire thing, but it's literally done on the backs of people who are passionate about the arts and local filmmaking."
The festival will have two rooms showing films, one with feature length and one with short films.
"The films literally run the gamut," he said. "We have dramas, comedies, Christian films, we have a documentary, we have some zombie stuff and we have horror. From A to Z we pretty much have every genre incorporated in the festival."
In addition to movies, the festival will have an events floor hosting over 30 vendors ranging from local authors to productions companies, to actors, producers and artists of all kinds.
The event's "tour de force" will be the attendance of the original "Robocop" Peter Weller, who also stars in FX's "Sons of Anarchy."
Weller will be available to sign autographs and take photos from 12:30-2:45 p.m. as well as host a seminar.
The day will top off with a screening of Weller's 1984 cult-hit, "The Adventures of Buckaroo Banzai Across the 8th Dimension," at 4 p.m.
Weller's will not be the only a seminar. WWE tag-team wrestler Sir Mo and local celebrity Dave Shuffett, the host of "Kentucky Life" on KET, will also speak and sign autographs.
"It's absolutely free," Starks said. "'New Beginnings,' (a local charity in Owensboro) (is) going to be there on-sight to collect donations for anyone who wants to give them."
The charity helps men, women and children who are victims of abuse and sexual assault.
For more information, visit www.rivercityfestivaloffilms.com