Expo provides diversity for your pallet
Maggie Lamaster
February 19, 2014
Hang on for a minute...we're trying to find some more stories you might like.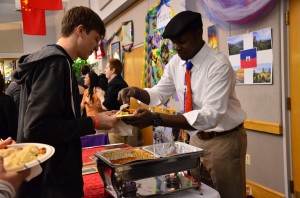 Students will get the chance to sample diverse cuisine at the International Food Expo on Feb. 21 in Carter Hall
"At the International Food Expo, 25 countries will be represented and each country will have its own dish," International Club President Phillis Brown said.
The International Club puts on the expo, which begins at 10:30 a.m. Friday. Tickets are on sale in advance at the International Office for $10 or $12 at the door.
The expo is worth attending because not only will there be food, but entertainment as well, Brown said.
"For entertainment, there will be group and individual dancing, and students will be playing instruments," Brown said.
Meschac Gervais, who is working on a master's degree in public administration at USI, said he is excited to represent his home country at the expo.
"I am representing Haiti," he said. "We will be cooking toasted fried plantains, and I will also be playing bongo drums."
A plantain is a banana-like fruit meant to be cooked before eating.
The food is prepared in the Loft kitchen starting Feb. 17 through Feb. 20 from 6 a.m. to 8 p.m.
Gervais also represented Haiti at last year's International Food Expo.
"Last year, I enjoyed the expo because the countries were represented well, and I like that the countries shared their meals," he said.
In addition to the food, Gervais enjoys the diverse cultures the event exhibits, he said.
"People dress from their culture in a fashion show," Gervais said. "I love seeing all the cultural aspects in the program."
Nicole Vernon, International Program and Services program coordinator, said the event allows students to travel the world in food.
"The expo is a good program for USI because it showcases the diversity of many different cultures," Vernon said.
Countries featured include: France, Egypt, Vietnam, Serbia, Haiti, China, Panama, Iraq, Thailand, Japan, Zambia, Germany, Kenya, India, Mexico, England, Nigeria, Indonesia, Gabon, Saudi Arabia, Zimbabwe, The Netherlands, Brazil, Taiwan and the U.S.