"Cutie and the Boxer"
Hang on for a minute...we're trying to find some more stories you might like.
Zachary Heinzerling's "Cutie and the Boxer" tells the charming tale of Noriko and her 40-year marriage to the famed boxing painter Ushio Shinohara.
Noriko – "Cutie" – pursues her own identity through a semi-autobiographical art project, while Ushio – "Bullie" – strives to achieve commercial success after years of undersold and under appreciated art left the couple struggling with money.
The most infectious part of this documentary is its ability to tell a story with little dialogue. The couple speaks non-subtitled Japanese throughout most of the film, but I was still able to see what was happening through every detail of the film.
Their physical actions were the easiest to decipher, but it was the sheer emotion evoked through Cutie and Bullie's eyes that truly painted the portrait of their lives.
Through animation Cutie's story comes to life as she crafts the tale of her relationship with Ushiro (side note: Cutie and Bullie are names concocted for Noriko's story; I felt compelled to use them).
Luckily, that animation aspect is written in English in the character thought bubbles, giving us uni-linguals a bit of a break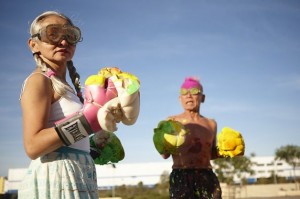 Cutie meets Bullie, a rising star in the New York art scene in the 70s, after coming to New York to pursue an art career. Spending night and day taking care of their son, and dealing with Bullie wild nights, Cutie feels she is losing herself.
"Cutie and the Boxer" is a beautifully sculpted, visually pleasing tale that is sweet, somber and surprisingly side-tickling.
I am excited to say that "Cutie and the Boxer" was deserving of its nomination for the 2014 Academy Awards in the category of Best Documentary.
I can't say that it will win, but I can ask all Film, Art, Oscar and Masterpiece fans to put Cutie and Bullie's scrumptious tale on their menu.
"Life is wonderful. Life should be positive," Bullie said. "When it is blown to pieces, that's when it becomes art. Art is messy and dirty when it pours out of you."